How to Get Marc Jacobs Dot and Daisy Inspired Nails:
Step 1: Pick out your favorite nail polish. Make sure that you choose colors that are complimentary to your favorite fragrance. For this tutorial, since we're pulling inspiration from our mini Marc Jacobs fragrances (Dot and Daisy), we chose to use nail polish from Butter London in Red, White and Black.
Step 2: Start by painting your nails red to use as the base color. Leave one accent nail blank so that you can paint that a different color. Apply two coats of red nail polish and allow them to dry.
Step 3: Start painting or designing your accent nail. While you are waiting for your other nails to dry, now is a good time to apply a white base color to your accent nail. Here, we chose to accent our ring finger nail with a white nail polish and gold bow to incorporate the colors from the Daisy fragrance.
Step 4: Once the red has completely dried on your nails, you can begin to add the black french tip to them. Grab your black nail polish and with one quick swipe, add a straight line of black color to the tip of your nails. This can be as thick or as thin as you would like it to be.
Step 5: Next, use a dotting tool or a toothpick to add little dots on your nail - to symbolize the dots on a ladybug.
Step 6: Add a quick drying top coat and you're good to go!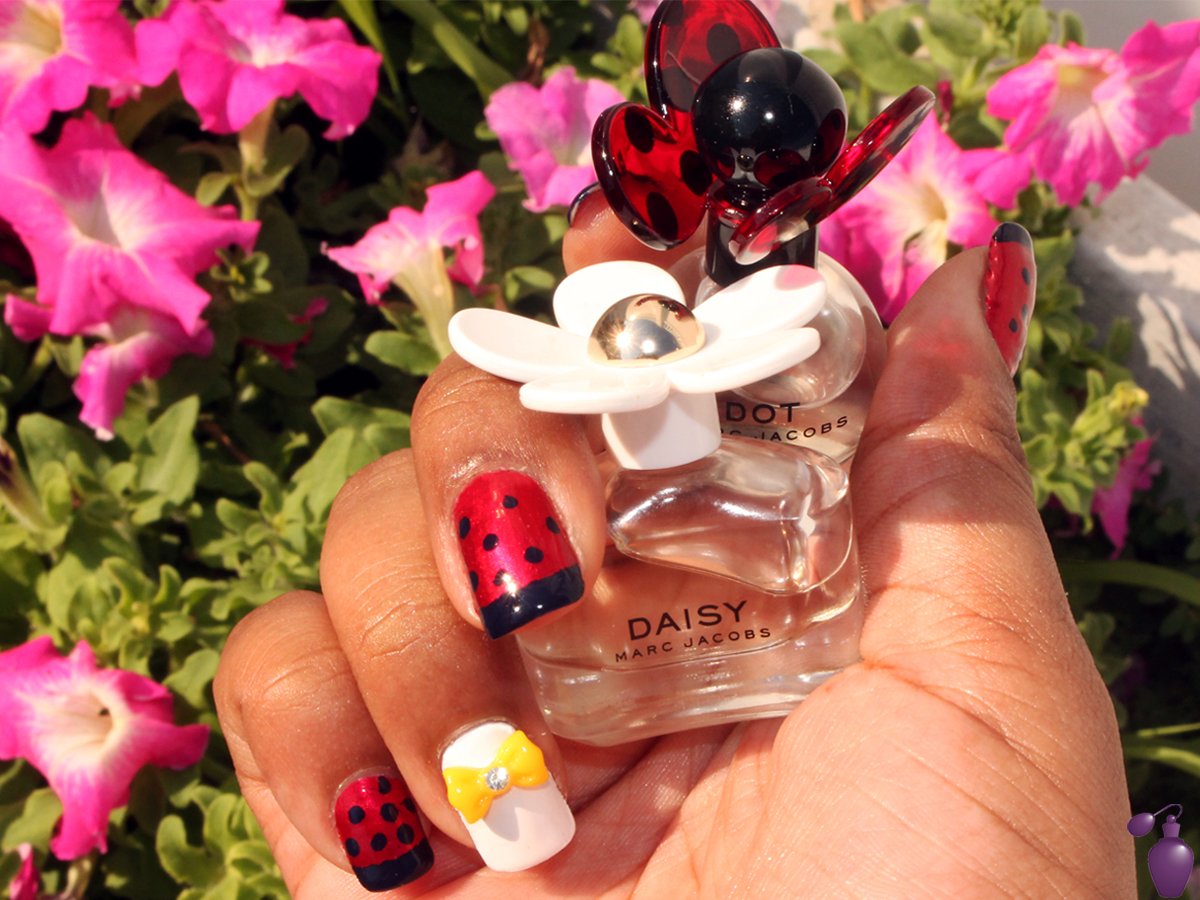 When you're heading off to a weekend at the beach this summer, there's nothing better than enjoying the fresh salty air, and running your feet through the warm sand. And while you've probably already applied salt water spray to your hair and slapped on infinite layers of sunscreen, know that giving your nails some summer love always makes a great beach-ready look.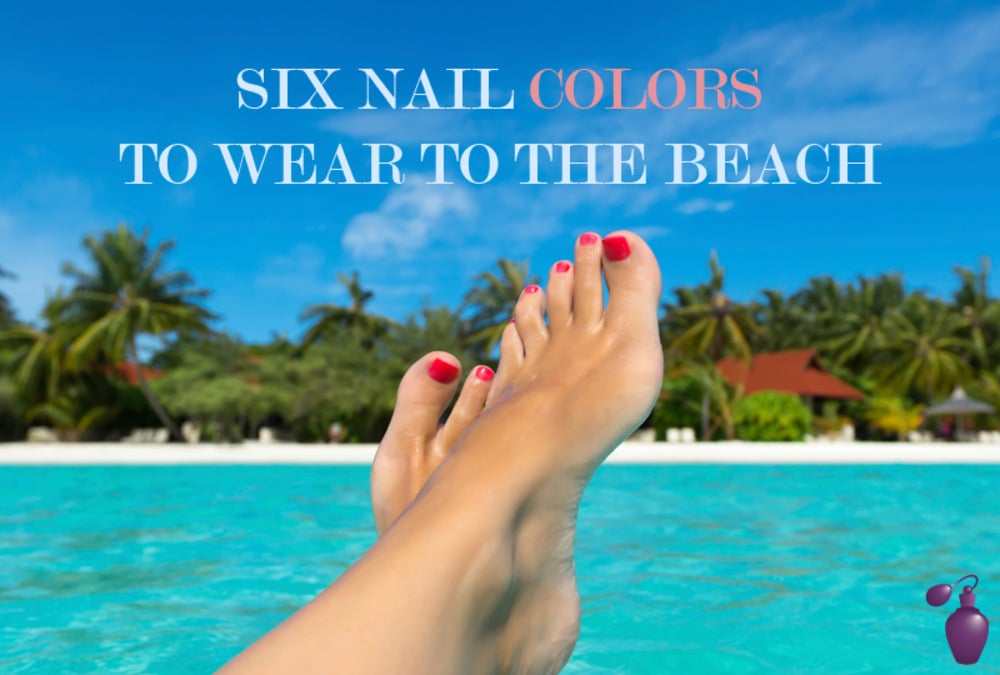 To give yourself a bright and bold mani/pedi, trust a handy nail polish to do the trick. And with six different colors to choose from, there's nothing stopping you from rocking gorgeous nails all summer long.
For An Aqua Blue...Deep cerulean blues are always a red hot summer color, so to get your nails in beachy proportions, the Butter London Slapper Nail Lacquer ($15.99) transforms basic nail beds pronto. Pair with a glossy or matte topcoat, and enjoy chip-resistant color for days.
For A Summery Orange...Much like a sweet summer sunset, the Butter London Sunbaker Nail Lacquer ($15.99) delivers a bold orange color to your fingertips. And with shimmering metallic sheen, you can expect this color to look just as fabulous on all those warm summer nights.
For A Bubblegum Pink…A girly pink always makes a darling shade all year long, so be sure to brush on the Butter London Fruit Machine Nail Lacquer ($15.99) whether you are hitting the waves or enjoying a summertime brunch with the girls.
For A Trendy Finish...If you're a fan of high impact polishes with a on trend finish, the Butter London Petrol Nail Lacquer ($15.99) gives nails a nearly holographic effect when worn alone, or with another color. Plus like all Butter polishes, you don't have to worry about toxic ingredients, as this lacquer is made without harsh chemicals found in most nail colors.
For Heavy Metals...Summer is all about showing off golden tans and bright colors. So to enhance your overall beachy glow, the Butter London Bit Faker Nail Lacquer ($15.99) offers your fingers and toes mega glittery perfection.
For An Electric Green...To show off your feisty personality, opting for sassy neon colors surely does the trick. For a flashy lime green that will surely draw attention, the Butter London Jaded Jack Nail Lacquer ($15.99) gives your fingers and toes that spunky hue you crave.
Nothing makes a girl feel like a million bucks like a fresh manicure…or maybe a wardrobe full of Chanel. But since most of us won't experience the latter, we want to make sure the manicures we spend our hard earned moolah on last as long as possible. Follow some of these guidelines to extend the life span of your colored nails regardless of what you have to do afterwards.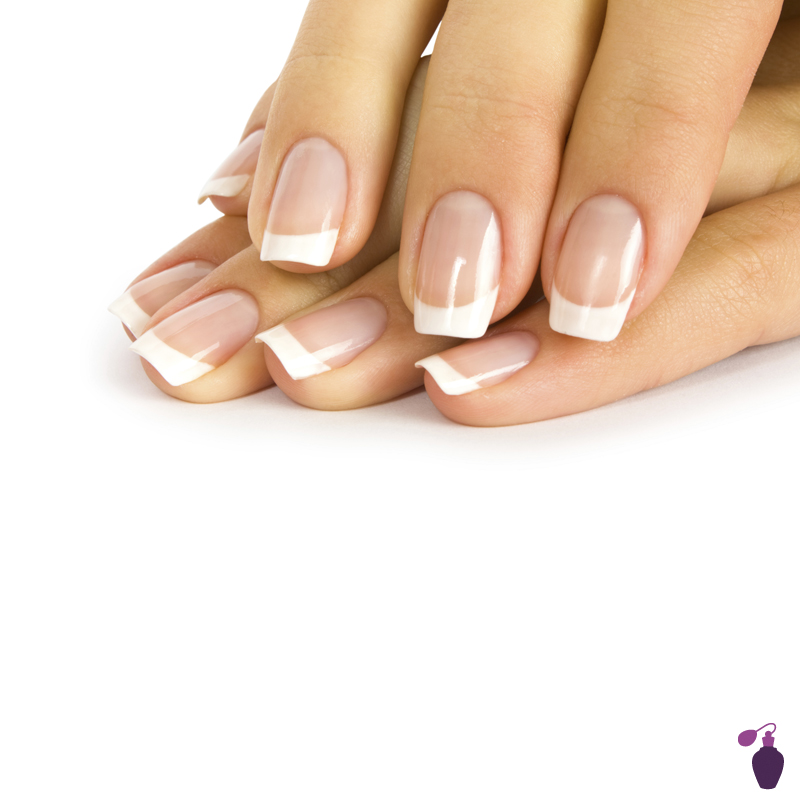 Pre-Condition
Before you paint your nails, make sure they're ready for polish. In other words, keep them healthy—moisturize and clean cuticles. We really like Calvin Klein's Nail Treatment Splendid Condition Moisturizing Cuticle Cream Treatment, which is designed to strengthen your nails and soften your cuticles pre-manicure. Let is soak in about an hour or so for the full effect.
Get Rid of the Oils
The biggest hurdle between you and a long lasting mani is the natural, non-visible oil on your fingernails. These oils prevent the polish from sticking, so you want to make sure your fingernails are completely dehydrated before you manicure them. One way to do this is by using an old, dry toothbrush to scrub the oil off. Or you could use polish remover or even vodka to dry out our nails.
Use a Base Coat
You've heard it a hundred times before: use a base coat, but the reason why is less well known. Simply put, a base coat sticks better to the nail that lacquer does; it also prevents bright colors from staining your nails.
Let 'Em Dry
The biggest manicure faux pas? Not giving your nails enough time to dry. Despite the special heat lamps and drying sprays many spas offer, the best way to truly dry your nails is with good old-fashioned time. Sure, it can be dry to the touch, but nail polish takes an hour to dry completely. If possible, avoid putting your nails under heat for 24 hours after your treatment—keep water temperatures cool and mild so not to melt the layers of your polish.
Have any great tricks for making your mani last? Tell us in the comments!