Giorgio Beverly Hills Giorgio for Men Review and Giveaway
FragranceNet.com A Rose A Day Valentine's Giveaway

Giorgio Beverly Hills Giorgio for Men is a classic and oriental fragrance for men. It was originally launched in 1984 and has remained a top choice for men who crave a woody and romantic scent. It's notes include gardenia, rose, jasmine, chamomile, orange flower and a hint of patchouli.
How to enter:
1. You must be a fan of our Facebook page.
2. Fill in the blank: The success of Giorgio led to the subsequent perfume launches of RED in 1989, Wings in 1994, Giorgio Aire in 1995, Ocean Dream and Red 2 in 1996, Giorgio G in 1999, Giorgio Beverly Hills and __ ____ in 2002.
3. You must have your answer posted on the Day 2 Rose Giveaway thread! If you need a hint, make sure that you check out our Giorgio Beverly Hills boutique.
4. Check back the next day as we announce the winner and the next rose contest.
Must be 18 or older to enter; open to US Residents only. One winner will be chosen at random from all valid entries. For complete contest rules, please visit http://ow.ly/XRT6G
Fall perfumes tend to be a lot darker and mysterious compared to spring and summer favorites, so you can expect the same kind of vibe to apply to colognes, especially since lots of aromas tend to be on the deep and alluring side to begin with.
But to find that perfect seductive scent before the coming winter months, it's always best to hunt for colognes filled with notes of deep woods and spices. To find that perfect seasonal scent, here's six top recommendations that will surely get you in the autumn mood.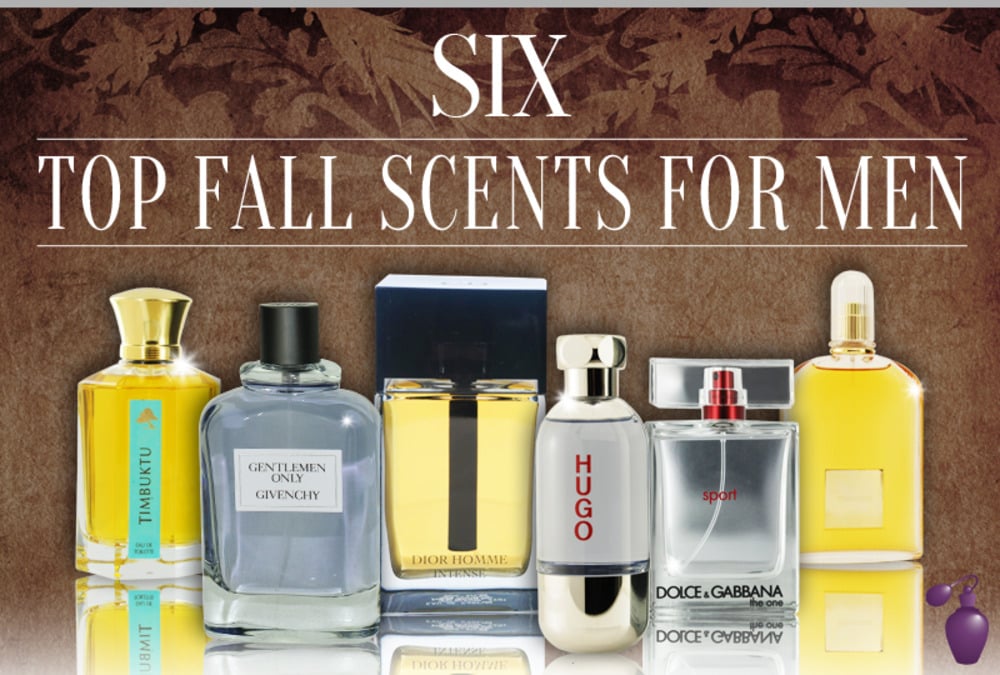 For Sultry Sex Appeal...Nothing says fall better than a deliciously enigmatic scent, so be sure to turn up your sensuality with the Tom Ford Eau De Toilette Spray ($91.99). Fusing together intoxicating notes of cedar, tobacco and patchouli, be sure to use this stunner on your next date night, or before that big board room presentation.
For Pure Elegance...Show off your dapper side with the L'Artisan Parfumeur Timbuktu Eau De Toilette Spray ($90.99), which entices and wows with a delectable accords of mango, pink pepper and papyrus smoke.
For Casual Affairs...Whether you're hitting the gym or hanging at home, casual scents work brilliantly for pretty much occasion. For a relaxed yet striking scent, look to the Dolce & Gabbana The One Sport Eau De Toilette Spray ($54.99) to keep things light and casual.
For A Daytime Pick-Me-Up...If your daytime scents tend to fade a bit too fast, look to the Hugo Element Eau De Toilette Spray ($37.49) to give you a burst of instant refreshment. And with notes like calone, ginger and cedar, you don't have to worry about pesky odors causing unwanted embarrassment.
For A Special Night Out...No evening is memorable without a spritz of divine fragrance, so be sure to turn to the Givenchy Gentlemen Only Eau De Toilette Spray ($48.99) when you need that extra boost of style.
For When You Want To Win Her Over...When you want to turn up the heat, trust the Dior Homme Intense Eau De Parfum Spray ($94.99) to heat things up, thanks to a sexy medley of woodly floral musks.
Do we have any last minute shoppers out there? Didn't pick something up for Dad this Father's Day, just yet? No worries, as long as you order a quick gift of ours for your pops before Wednesday, you will get FREE* express shipping and guaranteed delivery for his special day. 
Want to know THE 4 gift sets he probably can't live without? These are the hottest sellers for men who know how to smell good! Get him what he really wants…pamper him with one of these sets.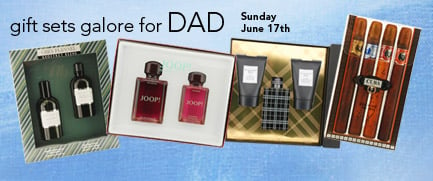 Is your dad a…
MANLY MAN
He'll love our Cuba Variety cologne, get the 4 piece mini variety which comes with cuba gold, red, blue & orange (all at .17oz) OR treat him to the 4 piece variety with cuba gold, blue, red, & orange at 1.17 oz each. These scents are hard to ignore, and your dad is well deserving of that.
OUTDOORSY MAN
Joop! Cologne, there it is! Joop! is the perfect cologne for any stud who loves the outdoors. Camping, fishing, hiking sound like dad? Joop! is the one your dad will love. With fragrance notes of exotic spices & florals, with woods, patchouli and honey, this very masculine scent may be the perfect one for your man.
The PRO-FESSIONAL
Have a hard working, professional papa? Burberry Brit cologne is a great scent for the office, notes including green mandarin, ginger, bergamot, wild roses, cedarwood and nutmeg. Not too strong, this scent is great for a man who wants to smell elegant and classy. It's a nice woody fragrance, not too overpowering subtle and refined, to say the least.
The ROMANTIC
Is your dad always going above and beyond for your mom? For you? Go above and beyond for him this year on his special day with Grey Flannel cologne by Geoffrey Been. The fragrance includes notes of orange, lemon, bergamot, oakmoss, sandalwood, and patchouli. It's the perfect mix of subtle, sexy, and also says "in control".