Ever wonder what our top 5 fragrance & beauty picks are? While they may be everchanging on a daily basis (how can we pick just 5 'top' fragrance & beauty picks, c'mon), here are the top 5, for today at least.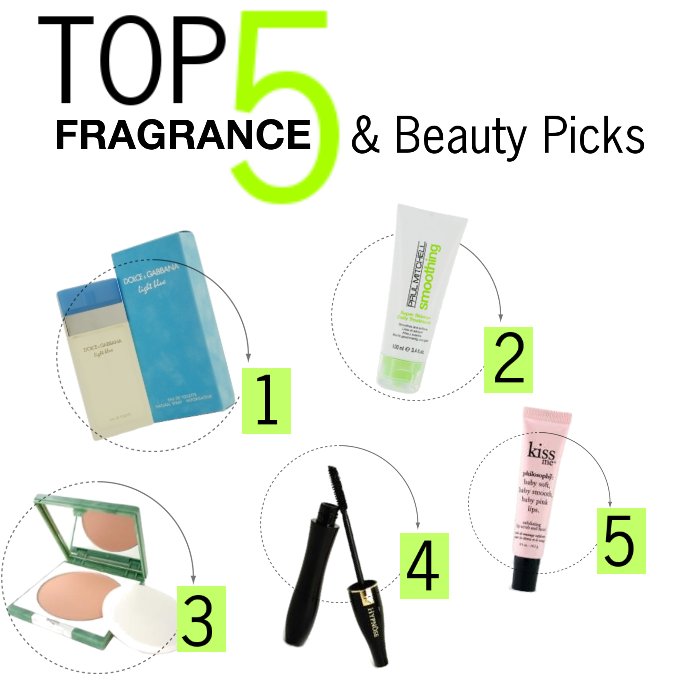 Top Fragrance: Dolce & Gabbana Light Blue perfume
A fragrance made for every day use for the casual woman, this perfume has a subtle scent, a scent that mixes apple, rose, jasmine, and musk fragrances to give a gorgeous, unique scent. 
Top Hair Care: Paul Mitchell's Straight Works
An amazing product that helps calm and relax naturally wavy/curly hair into a shiny, smooth style. Make your textured or unruly hair straight, sleek, and soft. Sounds too good to be true? You haven't heard half of it! This styling cream is lightweight and leaves hair soft and manageable. This product really provides the perfect balance of slip and hold to transform textured hair. 
Top Skin Care: Kiss Me exfoliating lip scrub
Keep your lips impeccably kissable with this lip conditioning, lip exfoliating product. This lip scrub/gloss will condition any dull, dry, flaky, or rough skin, giving you a super soft, super smooth, lovely looking lip. 
Top Makeup: Clinique clarifying powder makeup
The perfect way to help skin stay clear, look fresh and clean, for up to 8 hours. What's not to like about that?!
Top (other) Makeup: Lancome's noir hypnotic mascara
Probably one of the best mascara's on the market, this mascara gives a dramatic, intense lash with lots of length.


Don't settle for second best when going for a faux lash look with mascara, never give up, double up on designer mascaras (at discounted prices of course)! Combine a thickening mascara formula with a lengthening mascara for a true faux false lash. Intrigued? Want to know more?! Read on to find out how to get long lasting lashes, baby doll lashes, and more from layerin' up on mascara!


Colored lashes have been an in the moment, out of the moment beauty trend, but does it really matter what 'trendsetters' say...do what you want, and if you want to get that highly pigmented colored look, go for it! There is an easy way to achieve this, even if you have super dark lashes. Use your favorite mascara, and while it's still wet, quickly apply the highly pigmented mascara color or eye shadow powder to your lashes. Cool, eh? 
Want that lovely long lasting lash look? You'll want to snag a waterproof mascara for that long lasting factor, but unfortunately, we all know long lasting doesn't always mean most voluminous. That's why we think you should also layer with a swipe or two of a volumizing lash forumla, we love Chanel's dimensional mascara in #10 noir. 
Want a wide-eyed, baby doll lash look? You'll need a mascara with a thin wand...and the other mascara...one that is meant for curling, with a large, curved brush. With the thin wand, you'll want to take the time to seperate each and every lash, you'll also want to use a eye lash curler on your top lashes for the most wide eyed look you're able to achieve. 
What's your go to lash look?
Sick and tired of reading about all these fall and winter beauty trends that only maybe 25% of us (if that) can pull off! Sheesh, so are we! There are 5 fall beauty trends that anyone, we mean ANYONE can pull off this season! Drum roll please....
The first beauty trend ANYONE can pull off is, a dark nail polished look.
Summer is over and sorry to say, it's time to switch the polish shades from bright and sunny to deep and dark. If you don't want to get too dark, that's totally cool, just go with a deep red, like the lovely Dior Vernis color in massai red.
Flirty, flashy lashes are always 'in' and that's why it's just one of the fall beauty trends that ANYONE can pull off, whenever! We love Helena Rubinstein's lash queen feather mascara, a mascara that creates a long lasting feather light lash with heavy duty volume. Get maxi-volumizing lashes and a mascara that will give your eyes a striking look!
Who doesn't look good in an exceptionally smooth, longwearing lipstick look? This Givenchy satin lipstick gives a sexy, light-reflective color to lips, and why is that? Because not only does it give off a beautiful color, it also nourishes and hydrates lips with it's powerful anti-oxidant ingredients. Sooth and soften your lips, while looking pretty trendy too with this lovely lipstick!
Prevent that lipstick from fading, feathering, and bleeding with this hydrating and soothing perfetta lip pencil by Borghese. This lip pencil gives full color to your lips, with a long lasting, soft blending look. 
The last beautiful product from our site that will be the perfect complement to you this season is Gucci's perfume, a moderate fragrance with notes that include chamomile, guava, pear, patchouli, Tahitian Tiare flower and musk. This scent will add just a touch of spicy scent to your pulse points to leave you smelling lovely all day (and all night long). While layering up on the clothes, don't forget to layer up with your scent too! Snag a Gucci shower gel, body lotion, and eau de parfum spray.