How to Get Marc Jacobs Dot and Daisy Inspired Nails:
Step 1: Pick out your favorite nail polish. Make sure that you choose colors that are complimentary to your favorite fragrance. For this tutorial, since we're pulling inspiration from our mini Marc Jacobs fragrances (Dot and Daisy), we chose to use nail polish from Butter London in Red, White and Black.
Step 2: Start by painting your nails red to use as the base color. Leave one accent nail blank so that you can paint that a different color. Apply two coats of red nail polish and allow them to dry.
Step 3: Start painting or designing your accent nail. While you are waiting for your other nails to dry, now is a good time to apply a white base color to your accent nail. Here, we chose to accent our ring finger nail with a white nail polish and gold bow to incorporate the colors from the Daisy fragrance.
Step 4: Once the red has completely dried on your nails, you can begin to add the black french tip to them. Grab your black nail polish and with one quick swipe, add a straight line of black color to the tip of your nails. This can be as thick or as thin as you would like it to be.
Step 5: Next, use a dotting tool or a toothpick to add little dots on your nail - to symbolize the dots on a ladybug.
Step 6: Add a quick drying top coat and you're good to go!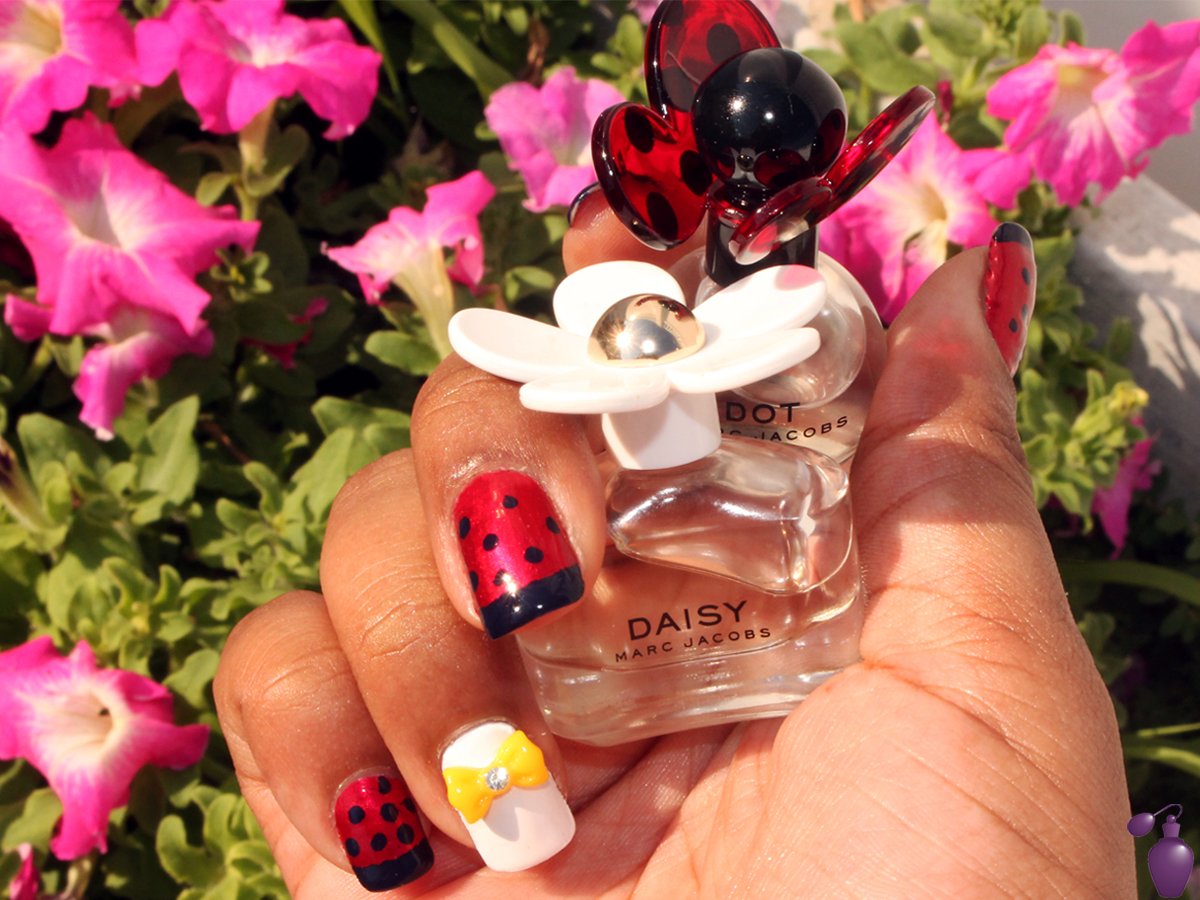 How to get Marc Jacobs Daisy Dream Inspired Nails:
Step 1: Pick out your favorite nail polish. Make sure that you choose colors that are complimentary to your favorite fragrance. For this tutorial, since we're focusing on Daisy Dream, we chose a white, light blue, and gold nail lacquer from one of our favorite brands...Butter London!
Step 2: Get inspiration for your nail design and grab your tools! I was inspired by the Daisy Dream bottle because it is decorated with white daisies motives and a highlight of gold sparkle. I didn't want to take the bottle design too literal so instead, I decided to use my nail lacquer colors and create a daisy dream inspired water marble nail design.
To achieve this look, you will need:
Nail Polish Remover
A toothpick (or a nail art tool kit)
One cup/bowl filled with warm water
Paper Towels
Q-Tips
Nail Lacquer
A fun imagination
Step 3: Take your nail polish remover and pour a drop or two of it into your cup with warm water. You should do this in order to thin out the nail polish so that it spreads out into the water easier - which will make it easier to create your design.
Step 4: Choose a polish color that you want to start with and take out the wand. Hold it over the cup, and let the drop fall in the water. It might take a few minutes for the first drop to fall so be patient! Don't try to wipe or dip the wand into the water.
Step 5: Once the polish drop falls into the water, watch how quickly it moves across the water's surface. As you're watching this, you should grab your next polish color, take out the wand, and add a drop of polish into the center of the first polish.
Step 6: Keep alternating colors until you achieve your desired level of color distribution. Be careful though - you're going to want to decide quickly because the longer you take, the quicker you're polish is hardening in the water.
Step 7: Take a toothpick and start creating the design that you want - draw lines, swirl the colors - whatever you want.
Step 8: When done, dip your nail into the cup and count to ten seconds for the outer nail polish to dry. To avoid a messy clean up, take the toothpick and in a spinning motion, pick up the nail polish that is left over in the cup.
Step 9: Take your finger out of the cup and take a look. The design should be printed on the nail.
Step 10: Repeat these steps to all of the other nails that you want to be designed the same way. Don't worry if it's messy at first. That's why you have the nail polish remover and the q-tips!
Step 11: Once you've created your design on all of the nails that you want, add a quick drying top coat to it and then begin to clean up.
Now your nails match your favorite fragrance!
LOVE! If you love Marc Jacob's Daisy (the original fragrance) you will completely and utterly adore the Hot Pink Daisy perfume, a 'richer' version of the original with notes of wild strawberries on top, jasmine and gardenia in the heart and birch and cedar in the base. The scent is lovely, fresh, and very long lasting.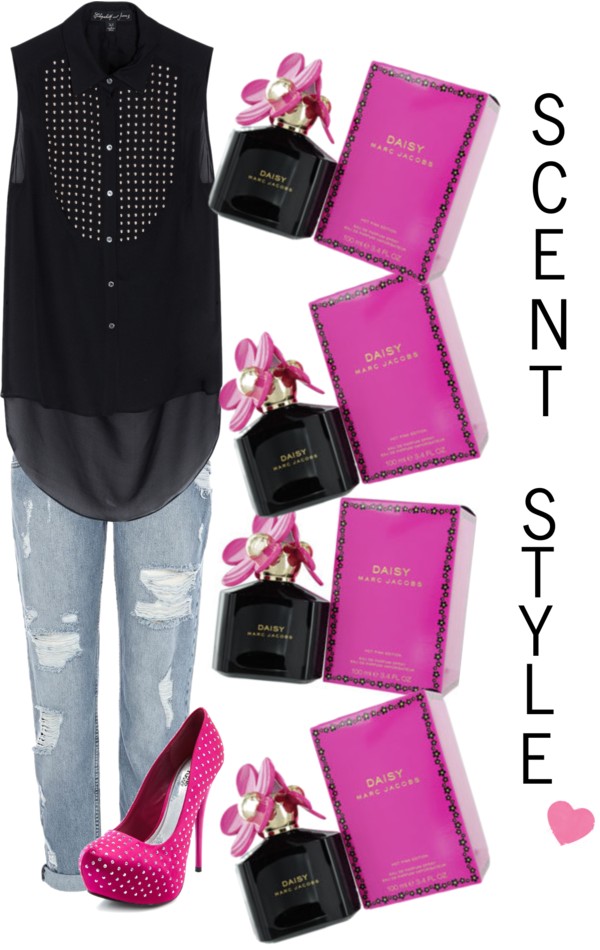 Photo made using Polyvore. Follow us on Polyvore & make your own #ScentStyle