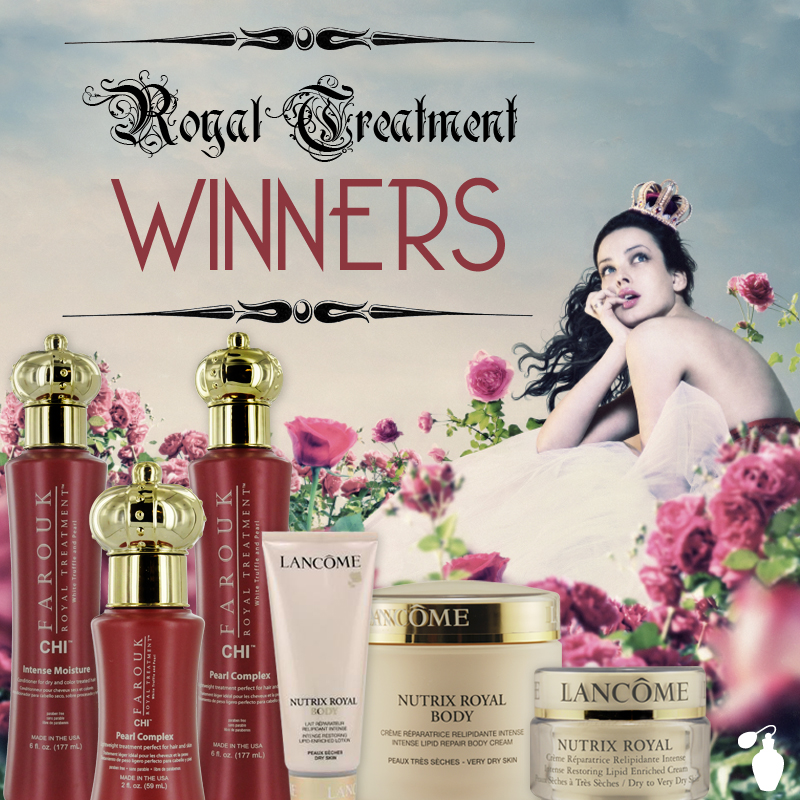 And the winners are....
This month, we hosted a Royal Treatment contest on Facebook, where we gave our fans a chance to win a little piece of the Royal Treatment with these CHI haircare and Lancome skincare products. And...here are the 10 lucky, lucky winners...CONGRATULATIONS! 
Billi Smith
Adrien Beatty
Stephanie Klein-Davis
Cindy Burnett Rose
Janice Geddings Joyner
Mattie Sue
Steve D Scott
Alexandra Alvarado
JoAnn Estes Lemberger
Brian Manis
Please note: The winners have been contacted via Facebook notification to email us for prize redemption details!
Ever wonder what our top 5 fragrance & beauty picks are? While they may be everchanging on a daily basis (how can we pick just 5 'top' fragrance & beauty picks, c'mon), here are the top 5, for today at least.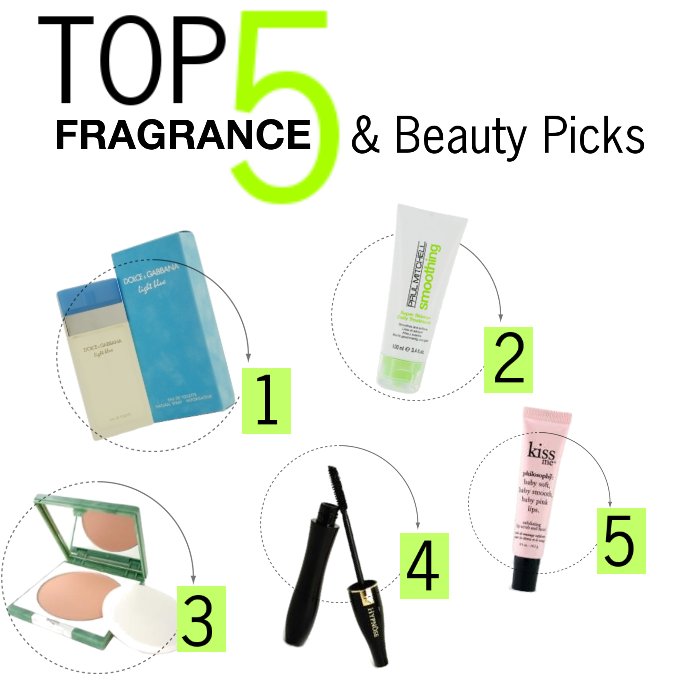 Top Fragrance: Dolce & Gabbana Light Blue perfume
A fragrance made for every day use for the casual woman, this perfume has a subtle scent, a scent that mixes apple, rose, jasmine, and musk fragrances to give a gorgeous, unique scent. 
Top Hair Care: Paul Mitchell's Straight Works
An amazing product that helps calm and relax naturally wavy/curly hair into a shiny, smooth style. Make your textured or unruly hair straight, sleek, and soft. Sounds too good to be true? You haven't heard half of it! This styling cream is lightweight and leaves hair soft and manageable. This product really provides the perfect balance of slip and hold to transform textured hair. 
Top Skin Care: Kiss Me exfoliating lip scrub
Keep your lips impeccably kissable with this lip conditioning, lip exfoliating product. This lip scrub/gloss will condition any dull, dry, flaky, or rough skin, giving you a super soft, super smooth, lovely looking lip. 
Top Makeup: Clinique clarifying powder makeup
The perfect way to help skin stay clear, look fresh and clean, for up to 8 hours. What's not to like about that?!
Top (other) Makeup: Lancome's noir hypnotic mascara
Probably one of the best mascara's on the market, this mascara gives a dramatic, intense lash with lots of length.


Working at a fragrance and beauty site, you better bet that we set the bar high with our products and product picks. Ever wonder what the staff at FragranceNet.com can't get enough of? Ever wonder what we wear on a day to day basis? Well, if yes, good news, here it is! If not, here it is anyway! For the ladies, it's pretty much been decided that Narcisco Rodriguez's perfume is one of the most alluring scents, alluring, yet casual, this fragrance combines notes of lavendar, pink pepper, patchouli, amber, violet and woody accords. You will not be dissapointed by this romantic scent!
Some of us have that can't live without product, and for myself, that would be lip gloss. If you, like me, are completely obsessed and can't live without lip gloss, try this gold gloss shimmering lip gloss by Yves Saint Laurent. We have a ton of colors, but I have fallen for the gold pink hue, a gloss that forms a mirror effect on the lips..shiny! This gloss wraps your lips with a glam shine and it's nourishing oils protect and comfort them, PLUS, its long wearing, oo-la-la!
Bat those lashes and feel like a glam queen! You will absolutely feel instant glam when you apply this unique mascara by Lancome that gives a maxi-volumizing pump to your lashes. It's powerful brush intensifes your lashes with no clumping. Keep your lashes soft, supple and extraoidarily irresistible looking all day! Check out Lancome's Hypnose mascara in noir hypnotic. 
Lastly, the guys! They must like to spice things up a little with this powerful fragrance, Zegna Intenso, that gives off a confident aroma that is clean, energizing and masculine! Notes include citrus scents such as lemon and mandarin orange, becoming fresh and subtle when combined with spicy pink pepper and cardamom. Musks and sandalwood soften the fragrance and add a distinctive scent that gets you noticed. This cologne for men works well for casual outings and everyday wear.