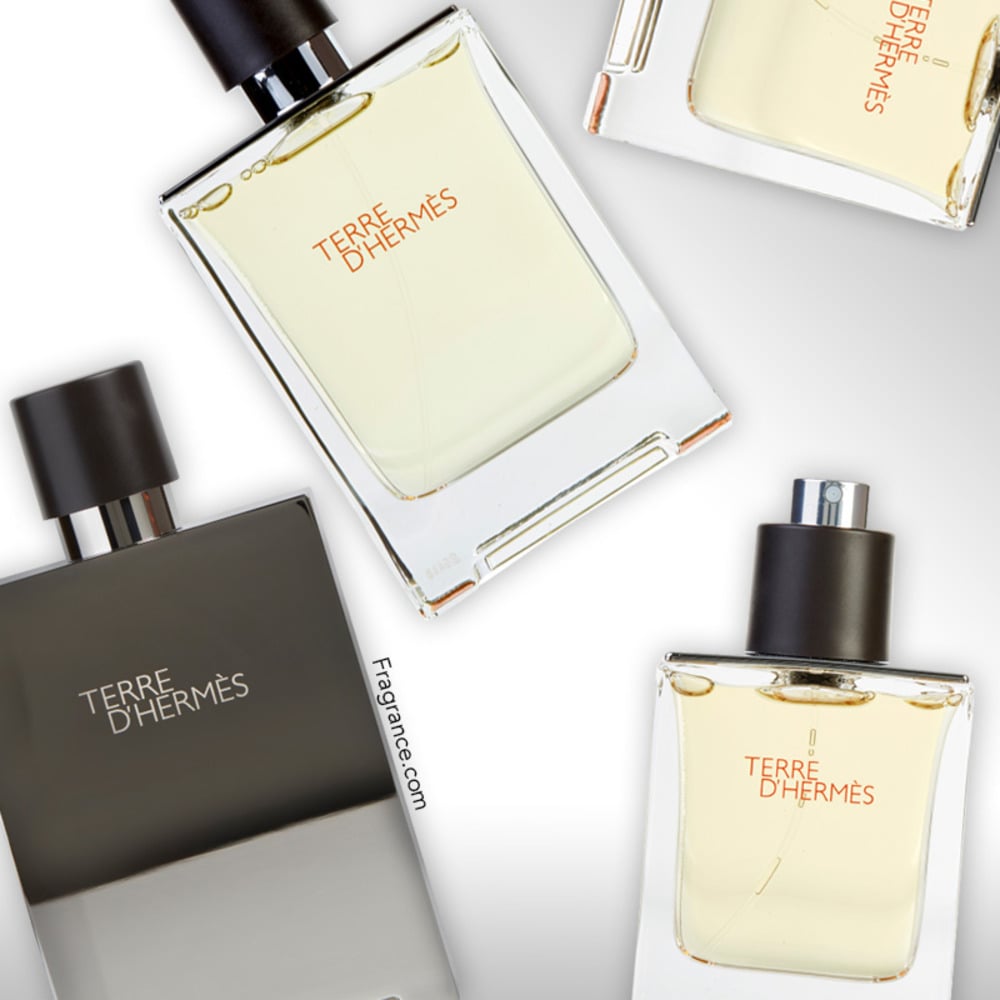 Terre d'Hermés is a fragrance triumph. Voted 'Best Fragrance of the Year' by FiFi in 2007 in the 'Men's Luxe' category, there is much to love in this weighty square-shouldered flacon!
Its opening accords of fresh green/orange citruses are sharp and refreshing, however, it quickly shifts into an unusual chocolatey/jaffa note, before some rich earthy and elemental accords come to the fore. It is the scent of a long-forgotten orange orchard that is overgrown and untameable... one that can only be reached by cutting through thick, tangled undergrowth that has flourished over several centuries through abandon and neglect. There is almost a sense of an "electrical storm" hanging overhead... a threatening heaviness, accompanied by the sharp spike of ozone in the air that declares when clouds, swollen with precipitation, are set to burst. One can detect the aroma of dusty, turned earth as it is speckled with fat raindrops... soil that is littered with over-ripe, mouldering oranges that have fallen from the green canopy above. Sound evocative? Well it didn't win global accolades for nought! Definitely a highly recommended staple in every man's collection!
Terre d'Hermes comes in two concentrations - an excellent EDT spray, and a pure parfum spray (somewhat rare amongst men's releases these days) which will last pretty much all day long.
A Guy Robert creation from 1970, Equipage pre-dates every other masculine from the house of Hermesand set the olfactory benchmark for those that followed it! A classic oriental fougere, this scent has an olfactory profile that runs the gamut from citrus to florals, to aromats, to spice and woods... a virile creation that came at the dawn of a new sex-fuelled decade!
At first, Equipage has a clean - almost soapy - feel... a tip of the hat to men's grooming and impeccable style. It opens with a prickle of bergamot and lime, and steers straight toward a slightly bitter green/aromatic slant of sage and pine... this is underpinned by delicate florals (carnation and muguet) that dance over a considered heart and base comprising cinnamon, nutmeg, tonka, patchouli and vanilla. Surprisingly, it feels both austere and endearing... an enigmatic composition that walks a tightrope between strength and delicacy. At times, there is even a hint of saddle leather... perhaps a nod to Hermes' equestrian heritage, although in the olfactory pyramid, it is not listed there. Equipage has a lingering mossy, musky, woody base with just a huff of sweetness. This fragrance has been reformulated and slightly modified over the years, but it still feels resolutely masculine, and very 'Hermes'. Its considered composition lends itself to office wear, or occasions where one is required to remain more discrete and stately than showy or loud.
Equipage may have been created in the 70's, but its charm exists to this day. One for (but not limited to) the strong and silent types!
In 2003 - under the guardianship of in-house nose Jean-Claude Ellena - Hermès invited us to stroll through a garden in the Mediterrannean; Ellena's first olfactory exploration in the Jardins perfume series. Since then, we have been taken to examine the garden oases of southern Egypt; the fragrant lawns of India after the monsoon; the verdant green of a rooftop Garden in Paris, and now - in 2015 - Ellena takes us for a stroll in a perfectly manicured Chinese garden... Le Jardin de Monsieur Li.
The flight of this perfume is a bright citrus with an unusual aromatic green undercurrent... it dances between notes of bittersweet kumquat and jade-colored aquatic accords. There exists a sense of balance and refinement right from the outset... a curious symmetry between components that feels effortless and precise; Ellena's very own Chinese 'masterstock', perhaps. Jasmine is listed amongst the olfactory notes declared on the outer packaging, and indeed one can find it there, but there appears to be an assortment of flowers that are not mentioned in the accompanying pyramid; rose? peony? magnolia? Again, Ellena has woven them all into the tapestry of this perfume with such mastery, that they are difficult to distinguish. The overall feeling however, is one of tenderness, filtered light, and an accomplished marriage of the elements, earth, water and air.
Monsieur Li feels incredibly diaphanous - as thin as Chinese rice-paper lanterns, and as semi-transparent as blooms of coloured ink dropped on wet watercolour paper. Over the hours, it tapers into a fine mist of clean musk and blonde woods.
As far as the Jardins series goes, Le Jardin de Monsieur Li takes up residence comfortably amongst it's older siblings and feels very much a part of the broader picture. Collectively, Ellena's Jardins creations form an aria to genderless perfection, each with a proficient sense of lightness and harmony.