It won't be too long until the landscape for most of the country becomes brown and drab again. As summer fades into fall, we will begin to lose sight of the vibrant greens that so define the season of the sun. And because we don't want to rush summer off too soon, we're dedicating this blog entry to green summer fragrances. Besides, won't you miss that smell of fresh-cut grass?

Green notes include everything from green tea accord to cucumber and violets. Often, green notes are blended with fruity florals to create a refreshing fragrance, the scent equivalent to a fine sauvignon blanc from New Zealand's Marlborough region.

The following are some of our favorite green fragrances (for men and women).
Marc Jacobs Grass: The name on this one pretty much gives it away. This invigorating perfume smells of fresh-mowed grass and soft woods. Jacobs has successfully taken the essence of a summer morning and stored it in a bottle. And like any summer morning, Marc Jacobs Grass is brimming with possibilities. The designer also makes Marc Jacobs Cucumber, Marc Jacobs Basil and Marc Jacobs Gardenia.

Creed Irisia: Irisia is a timeless classic fragrance for women. Wearing Irisia is like taking a walk through a secret garden filled with tuberose, violets, bergamot and the stunning iris, which is this perfume's highlight green accord.

Usher UR: UR cologne gets its green-ness from its herbal notes of basil and bay oil. These refreshing accords are layered over spicier notes of guaiac wood, cashmere wood and sandalwood.

Demeter Fragrance Library: Demeter has rolled out a collection of fragrances that mimic everything from the smell of homegrown tomatoes to ripe cucumbers. Demeter's mission is to create fragrances inspired by real life everyday objects and experiences. There's even one called Poison Ivy.

Estee Lauder Aliage: Aliage, Estee Lauder's sports fragrance for women, opens with a blast of jasmine and cool citrus, giving it an invigorating, vibrant green opening.

A Scent by Issey Miyake: According to the Issey Miyake Website, A Scent is a feminine perfume inspired by pure fresh air. Heart notes of hyacinth and galbanum are accented by verbena and jasmine. Does it get much greener than that?

Aramis Devin: Devin cologne by Aramis is the green machine. This fragrance gets its green on early with opening notes of rich herbs and citrus, followed by intense spices of incense and patchouli.

Eau de Reglisse by Caron: Both the men's and women's fragrances contain green notes, but Eau de Reglisse perfume blends in a little more of nature's best with herbal notes of basil, lemon verbena and nutmeg.
 
LaCoste Essential: This men's cologne was created with a special time-release technology so that the fresh citrus accord lasts all day. Other green notes include tomato leaves and cassis, making LaCoste Essential cologne a unique and satisfying summer scent.

CK Truth by Calvin Klein: The heart of CK Truth men's cologne is watery greens, flanked and enhanced by fresh herbs of basil and cardamom. The green accords are everpresent, even through the woodsy drydown, intertwining nature and masculinity.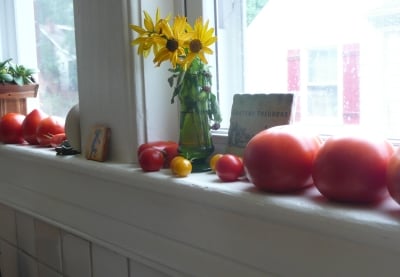 Nothing says summer like garden-ripe, homegrown tomatoes and fresh herbs. And while a caprese salad and homemade salsa are completely agreeable to the taste buds, do they really work in your fragrances?
The fact that, here at FragranceNet we are often sold out of Marc Jacobs Basil perfume and Donna Karan DKNY is a clear indication that, yes, tomato and basil indeed work in fragrance form.
There are other fragrances on the market that contain notes of tomato and basil, including Nina Ricci's Liberty Fizz, CK Truth, Jo Malone Lime Basil, Hermes Un Jardin Sur Le Nil, Annick Goutal Passion, Essential by Lacoste, Sisley Eau de Campagne and Demeter Wet Garden cologne spray.
The greeness of the tomato note often blends well with accenting floral notes, providing an overall crisp, clean aroma … as well as a reminiscent olfactory experience. Let's face it. Nothing really beats the smell of a ripe vegetable garden.
Makes me want a slice of tomato right about now.