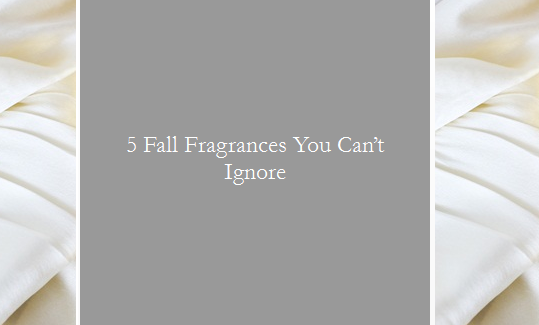 These 2012 newcomer scents are perfect for the fall, and to be completely honest, stand no chance of being ignored. Lend all of your attention over to these 5 fall fragrances, no really, you won't be able to resist! Here are 3 women's scents and 2 man scents full of we fragrance notes you and I won't be able to pass up anytime soon!
Great for the start of the new season, Chloe's new L'Eau de Chloe is a light, refreshing and brilliant version of the original Chloe eau de parfum scent. Crisp and citrusy, this scent matches the start of a fresh, crisp autumn season. The light green liquid in the classic fragrance bottle feature sparkling citrus accords with accords of rose petails and distilling rose water.
Warm up that chill in the air with Spicebomb by Viktor & Rolf for your man. This warm, spicy, cinnamon-y scent has notes of tobacco but is softly spicy and sweet. Talk about a masculine scent, this scent is explosive and addictive. 
Ladies, ladies, ladies, who wouldn't want to have a scent that triggers optimism and happiness, none the less, one that spritzes out of a beautiful coral shade fragrance bottle? Bvlgari's Omni Coral perfume is romantic and omptimistic, with notes of red berrieswater lily, hibiscus and pomegranate, musk and cedar.
Recently relaunched, and just in at FragranceNet.com, the masculine scent by Dior, Eau Savage, has been re-released this year in a stronger concentration than it's original from 1966. Update the man's fragrance collection with this classic, citrusy scent with a new composition of bergamot at the top, myrrh resin at the heart and dry vetiver in the base. Lovely, to simplify the scent in one word.
And our last pick for fall fragrances we can not resist is...Guerlain's Shalimar Initial L'Eau Guerlain for women. What can we say...this success of this scent continues! This year, Guerlain launched this flanker with a lighter and drier scent, with notes of lily of the valley, fressia, and hyacinth.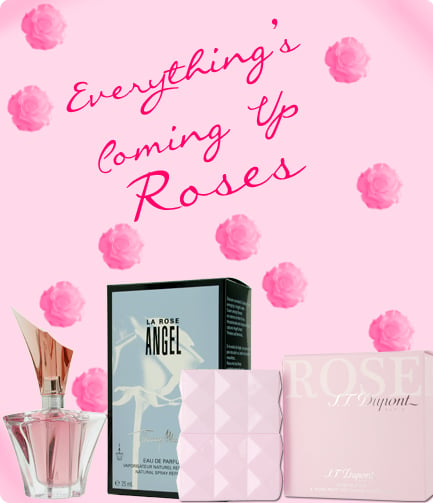 Just because it's farewell to summer doesn't mean the sweet smell of roses must vanish too. Keep the scent of summer with fragrances that include notes of rose.
Our fave? Naturally, La Rose Angel by Thierry Mugler and another fave? St Dupont Rose perfume for women. Both of these scents are perfect for a touch of femininity, an elegant scent, these are fragrances that can be described as fresh.
La Rose Angel, a unique scent sure to compliment any fashionable woman, features notes of rose, patchouli, and citrus and combines oriental and floral notes; this scent is trendy to say the least.
Looking for a new lovely scent at a seriously low price? St Dupont Rose perfume is on our site at a deep discount, that's right, under $20. This luxurious perfume has notes of vetiver, jasmine, cedar, mandarin, lemon, violet, peony, rose, musk, williams pear, and iris.
When wearing scents like these, you will be sure to have a day where you are pleasantly pleased. Put yourself in a fabulous mood with scents where everything's coming up roses.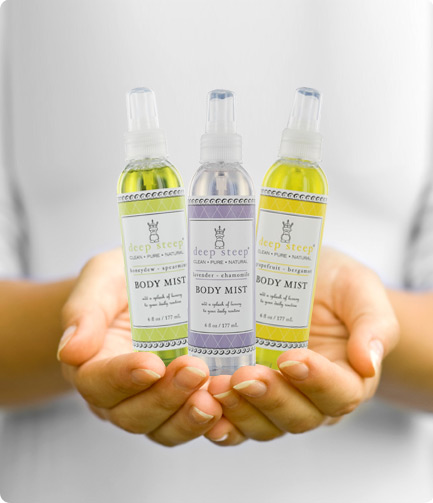 There is nothing better than a natural, eco friendly product, especially a parfum spray! Since I have been working at FragranceNet.com, I have come to love Deep Steep products.
Not only are the natural, eco friendly products, but they are also 100% wind powered, green e-certified. But it doesn't stop there! Also paragen free, all products are 100% chemical preservative free...which means NO synthetic fragrances are used, completely and utterly...amazing!

The body mists are my new obsession (well, for this week at least)! From scents like Grapefruit Bergamot to Honeydew Spearmint, these scents smell so good, I wish they were edible too. But you can't always get what you want. Check out all the body mist scents here.
Which will you try? Maybe it be the lavendar chamomile body mist? Rosemary Mint? Tangerine melon? Let us know in the comments below!