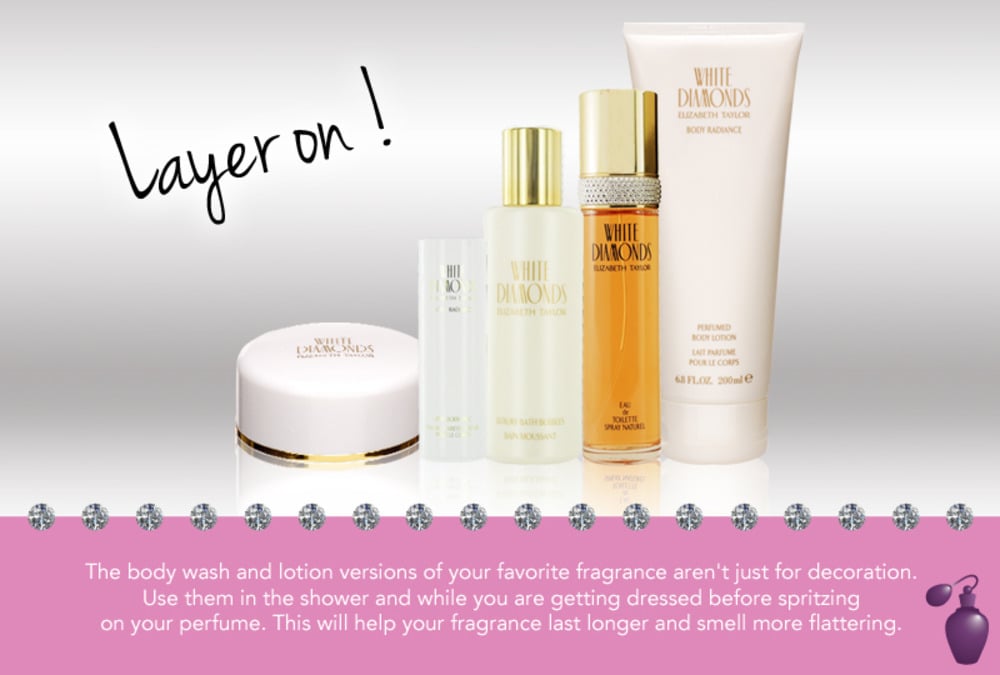 Fragrance layering may sound impossibly chic, but it isn't as complicated as you think once you learn the basics. The skill of layering is all about incorporating the right scents into other aspects of your beauty routine to make your perfume work better for you or to change your scent in unique ways for more impact.
For example, using a body lotion with a specific note is a way to alter your signature scent for the upcoming season without splurging on a new perfume.
Lucky for us, layering with fragrance is easy to do when we have matching shower gels and body lotions offered with our favorite fragrance. Using the shower gel, soap and shampoo, followed by the moisturizer of your favorite fragrance, helps make your fragrance last all day long! Plus you get the added benefit of hydrating skin and hair!
To have a little bit more fun with layering and to head from day to night, take into consideration the fragrance notes in the scents you have. Wear whichever day scent you prefer and choose an evening perfume that carries forward a main note of the day fragrance. If you wear a citrus scented fragrance, top it off with the same citrus note carried in a different fragrance for night.
GIVEAWAY! If you missed out on our #FNetHolidayGlam giveaway, you're going to want to make sure that you enter this! We're giving away five $100 FragranceNet.com gift cards! That's right - five of you will have the chance to win a $100 gift card!
Here's how to enter:
1. Follow @FragranceNet on Instagram; Like FragranceNet.com on Facebook; Follow @FragranceNet on Twitter.
2. Post an original image of your FragranceNet Holiday Haul and tag #FNetHolidayHaul.
3. You can enter multiple times (with a maximum of 5 photo entries throughout the entire entry period). Each entry can be a mix of products (cosmetics, fragrances, gift sets, candles, skincare, aromatherapy, haircare, etc.) or a single shot of your collection. Everything needs to have been purchased from our website www.FragranceNet.com.
4. Want to increase your chances? Make sure that you enter on our Facebook page and Twitter page as well. Use the same caption #FNetHolidayHaul.
5. It's the season of giving! Make sure you tag your besties so they can enter too!
Must be 18 or older to enter; open to US residents only.
This giveaway will run from Wednesday, December 16th and will end on Wednesday, December 30th at 11:59pm EST. Five winners will be chosen at random from all valid entries under #FNetHolidayHaul within 48 hours of the contest end date. This promotion is in no way sponsored, endorsed, or administered by or associated with Instagram or any of the featured brands.
Good luck!!!
Ah a sporty fragrance for men