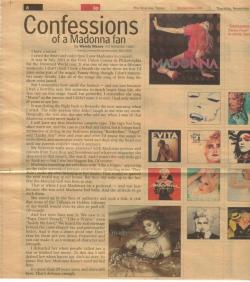 I just read in the news today that Madonna is close to signing an agreement with Coty to launch her first fragrance.
I will confess. I love Madonna. I'm sure that shows my age, but that's OK.
Madonna was a strong presence from adolescence through college, and beyond. I even wrote an article about Madonna in the local newspaper a few years ago (pictured here).
It wasn't her singing -- we all know she's not the greatest singer on the planet -- but her bold courage that drew most of us young girls to her. She certainly paved the way for women performers. Even Lady GaGa has said was inspired by Madonna.

Will I buy her new fragrance? Probably. Even if I don't like how it smells on me.
I guess it's about loyalty. Or nostalgia. Or a little of both.
We are having skunk issues in our neighborhood. Even the local newspaper has written about the influx of skunks. I've seen them scurrying around at night, and smelled them on several occasions this summer. I knew it wouldn't be long before my outdoor cat ran into one. It happened last weekend.

We bought some pet-store solution and rubbed it on him a few times, to no avail. Turns out the old home remedy of baking soda, peroxide and dish soap finally did the trick.

This got me thinking about baking soda. Apparently there are zillions of uses for this stuff -- other than sitting in the back of the refrigerator like at our house.

Baking Soda and Personal Health

Use as toothpaste
Relieves insect bites
Soothes diaper rash
Eases heartburn
Freshens breath
Relieves canker sores
Soothes bee stings

Household Uses for Baking Soda

Eliminates odor from dishrags
Use it in your vacuum
Air freshener
Insect repellant
Gardening agent
Elimates odor from cat litter
Cleaning agent

The list goes on and on. Apparently baking soda is amazing. And it did wonders for my cat.
I don't know about you, but my hair is wavy. To straighten it takes a long time, especially using a hair dryer. If you don't dry your hair all the way through (I have thick hair, too), all your straightening efforts have gone to waste.

These days I just don't put in the time. I have learned to embrace my wavy locks. However, every once in a while I'll feel the need for the straight and narrow, and drag out the hair dryer. Not anymore.

Sure, flat irons have been around a while, but FragranceNet just got a new one in stock, one that seems to be fairly popular - the Babyliss Pro Nano Flat Iron. This flat iron is a little different in that it straightens hair up to 40 percent faster, and you can use it on wet hair! I'm sorry, but this is a must-have in my household. And apparently in Angela's, too. (Pictured here)