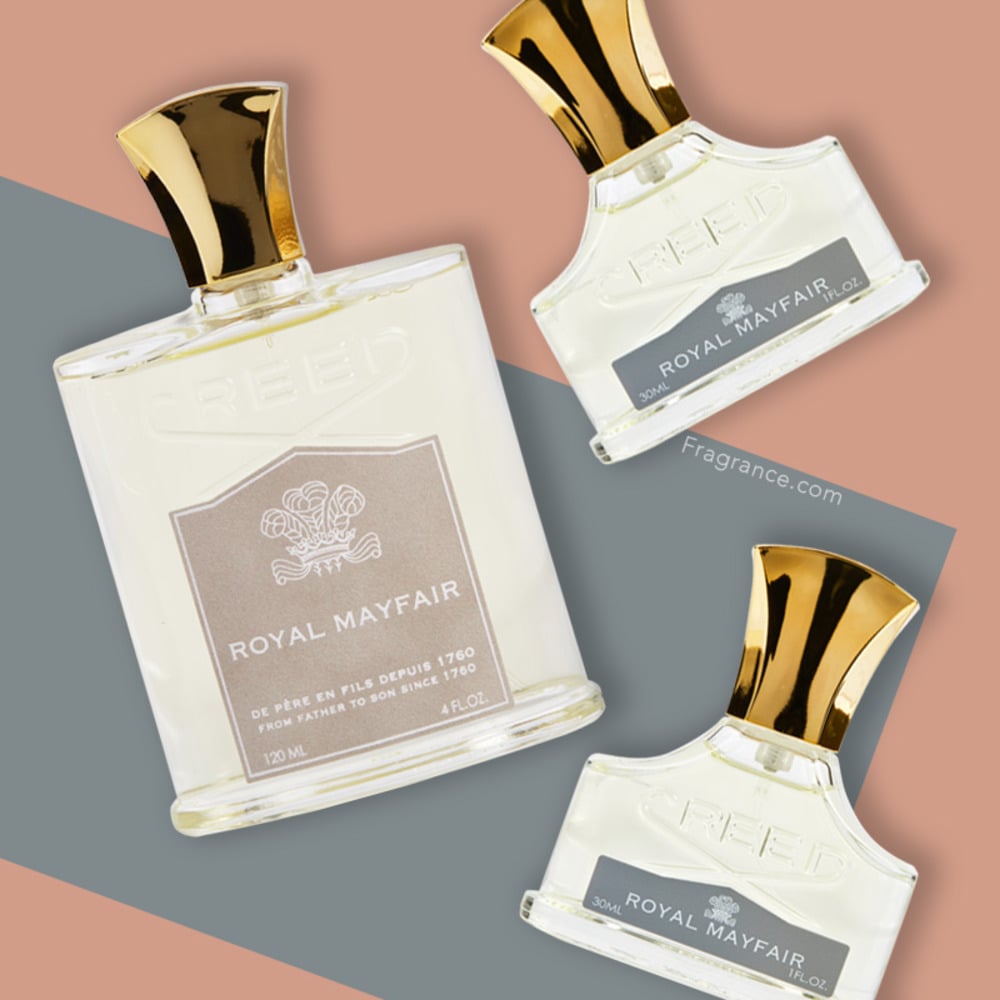 Loyal fans of the house of Creed know that if they are sitting on a bottle of Creed's "Windsor" that they are sitting on a pot of gold. First created in 1936 for King Edward the VIII of England, Windsor has been re-released just a handful of times over the years and in very small batches. However, because of the fragrance's universal appeal, in 2015, Creed decided to tweak the formula a little and offer it to the masses under a brand new name; that name is ROYAL MAYFAIR.
Royal Mayfair - as the name suggests - pays homage to its royal history. A beautiful masculine fragrance (which incidentally, is also adored by the ladies), Royal Mayfair opens with a stellar shot of gin… a juniper-y note that blends well with it's flight of pine and eucalyptus. These three accords imbue the scent with a sense of vast green open spaces. They steep over a lip-smacking heart of peach and rose, however its important to point out that Royal Windsor is not a sweet scent, and a considered woody base provides support to the composition. Royal Windsor smells sophisticated and debonair… perhaps the scent of a meticulously groomed gentleman.
Reserved for special occasions, semi-formal events, office wear and nighttime use, Creed's sublime 82 year old fragrance is still managing to lure newcomers in the here and now. Luxurious, comforting, self-assured.
With Fathers' Day right around the corner, finding the perfect gift can be a little tricky. We've rounded up our best finds (with the help of the manly men here at FragranceNet.com, of course!) in order to help make the process a little easier. With everything from light and summery scents to ones a little more mysterious and outdoorsy, we have you covered for this upcoming weekend. Here's what we're loving right now:
We recently launched, for the first time ever, a Father's Day contest, asking our lovely Facebook fans why their father deserves to win a $250 FragranceNet.com gift card. With an amazing (and a bit overwhelming) response, we've read through ALL of the touching, loving, and sweet responses and have finally chosen a winner. Trust me, this was no easy task, but it had to be done. So without further a due, CONGRATS to Kiersten Mitchell. See her response below!
Kiersten, we're so happy we can help you give a little something back to your father-in-law for all the great things that he does and for how true he sounds! CONGRATS again :)