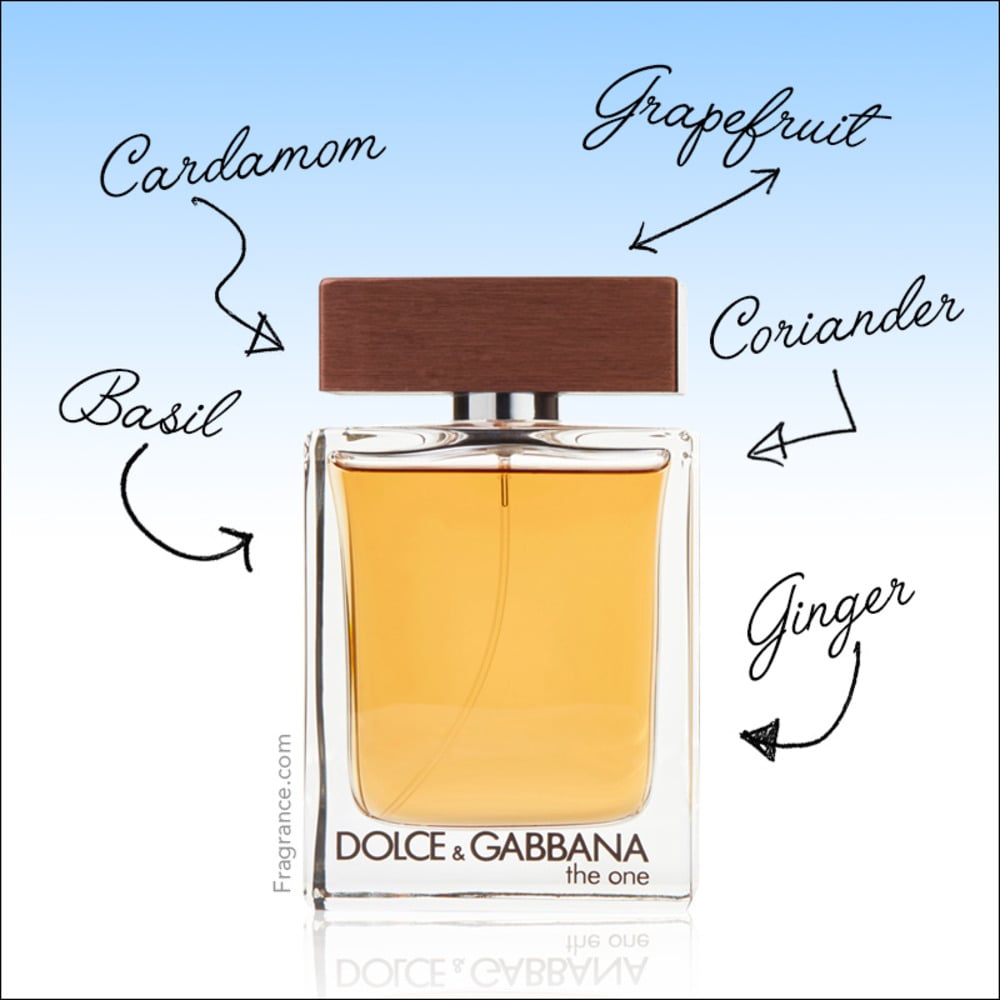 This luxury Italian fashion house founded in 1985, has been in the business of producing fragrance since 1992. With a string of successful, iconic releases to their credit, Dolce & Gabbana bound back in 2008 with a masculine fragrance to match its feminine counterpart launched just 2 years earlier. The One for Men is a runaway success and a tip of the hat to devout masculinity.
A woody spicy scent, The One is presented in a weighty glass flacon with broad, square shoulders. It's composition is something of a breakaway from the masculines previously presented in the D&G portfolio. The opening of basil, coriander and grapefruit is herbaceous and aromatic, but almost instantly, one senses a delicious ambery warmth rising from beneath. Spicy cardamom, vegetal amber, cedar and dried tobacco imbue the fragrance with feelings of comfort and familiarity. It is masculine and endearing... something perfect to snuggle up to. For those who found beauty in a bottle of Vera Wang For Men, The One might just be, well, "the one"!
Dolce & Gabbana The One for Men is the first masculine of theirs to follow this woody / spicy / oriental trajectory and thus is a standout in their portfolio. It can be worn for all occasions, and is the perfect comfort-scent to cure your craving for cozy.
Ever wonder what our top 5 fragrance & beauty picks are? While they may be everchanging on a daily basis (how can we pick just 5 'top' fragrance & beauty picks, c'mon), here are the top 5, for today at least.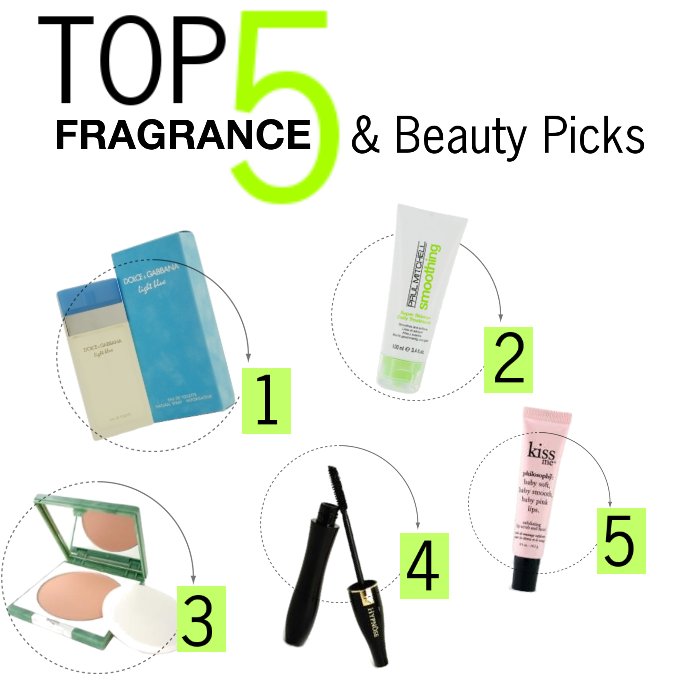 Top Fragrance: Dolce & Gabbana Light Blue perfume
A fragrance made for every day use for the casual woman, this perfume has a subtle scent, a scent that mixes apple, rose, jasmine, and musk fragrances to give a gorgeous, unique scent. 
Top Hair Care: Paul Mitchell's Straight Works
An amazing product that helps calm and relax naturally wavy/curly hair into a shiny, smooth style. Make your textured or unruly hair straight, sleek, and soft. Sounds too good to be true? You haven't heard half of it! This styling cream is lightweight and leaves hair soft and manageable. This product really provides the perfect balance of slip and hold to transform textured hair. 
Top Skin Care: Kiss Me exfoliating lip scrub
Keep your lips impeccably kissable with this lip conditioning, lip exfoliating product. This lip scrub/gloss will condition any dull, dry, flaky, or rough skin, giving you a super soft, super smooth, lovely looking lip. 
Top Makeup: Clinique clarifying powder makeup
The perfect way to help skin stay clear, look fresh and clean, for up to 8 hours. What's not to like about that?!
Top (other) Makeup: Lancome's noir hypnotic mascara
Probably one of the best mascara's on the market, this mascara gives a dramatic, intense lash with lots of length.


Paper, pen, highlighters, lip gloss...oh you know, the typical office essentials. You can imagine the amounts of product that lands on my (the social media gal) desk, from just in products to product requests from beauty editors from magazines, bloggers, and vloggers...and if you can't picture it, trust me, it's a lot! Definitely not complaining here, but the essentials...what are my essentials that I must have, can't go without, during a typical day of work? I'm glad you ask...here are a few of many.
Office Essential # 1: D&G 3 L'Imperatrice perfume by Dolce & Gabbana is the perfect pick me up when the clock seems like it's not tickin'. Notes include kiwi, watermelon, musk, and pink cyclamen. A quick sniff of this scent and I'm good to go...such a fresh, fruity, and not to mention girly fragrance. 
Office Essential # 2: Typically, after lunch, I like to touch up over my before-work, morning makeup application. Laura Mercier's foundation powder does the trick in diminishing shine. What's great about this product is if used dry with a puff, it matte's out shine, if used wet with sponge, you'll get greater coverage than a liquid foundation. Either way, try this foundation for a soft, velvety, smooth complexion.
Office Essential # 3: My last and most essential of the 'office essentials' is Philosophy's raspberry sorbet lip gloss. Not knowing it, I constantly am either licking my lips or biting them...which is why it's a good thing I have a slight obsession with lip gloss and applying it over and over...and over again. Maybe I lick my lips so much because this raspberry sorbet lip gloss tastes so so good, but hey, it works because Philosophy lip glosses are not only scrumptious and deliver a high shine BUT it's formula smoothes and softens lips. Treating your lips and pleasing your sweet tooth (without the calories) never felt so good!