If you're anything like us, you can't stay away from Pinterest, it's true, it's addicting. But this look caught our eye and stopped us in our tracks, really, and we figured we just had to feature a shop the look for less here... for you. So that's what we'll continue to do...isn't it just lovely? Ready to get this look? Check out the easy steps and how to get it for less!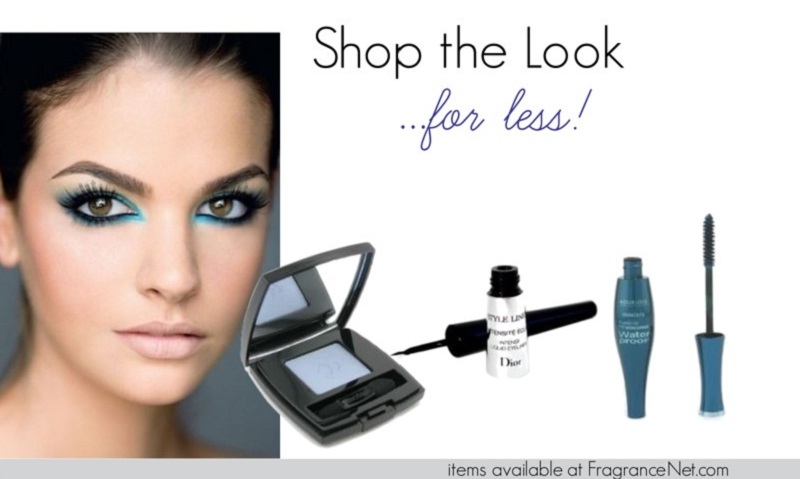 First, get all of your lovely beauty tools and products ready. This look will call for jet black eye liner, liquid and pencil, a bright blue (or any color you'd like to accent your eyes with) plus a volumizing mascara.
Prime your eye with primer or a foundation for a longer lasting hold on the eye shadow and even out any redness of discoloration on your lids. This look calls for a clean, classic appearance, with a running of black along your upper lash line. Next, apply the blue shadow on your eye lid, then a neutral shimmery shadow on your browbone to highlight. You may blend in a neutral color into the crease for a more dramatic look, but be sure to blend, blend, blend. Apply the blue shadow eye shadow color onto the bottom lash line.
On the inner tear duct, apply that shimmery, neutral shadow you used to highlight your browbone to open your eyes and really make them pop.
Curl your lashes and get the liner ready (our pick is Dior's style liner in noir black) ! Apply on the top lash line and wing out if you wish. Line the bottom lash line with the same liquid liner. Start before the corner of the eye when applying the liner, this way you won't be 'closing up' your eyes. Gently press the liner into the very edge of the eye, build up gradually rather than applying one sweeping line, or you'll end up smudging or creating a messy line. 
Now for that pop of color, dab, sweep and press the blue hue eyeshadow in the inner tear duct and line the bottom and top lash lines with this second color.



Stop what you're doing and get psyched for 5 products you are about to want (and own) now! These 5 products are our must haves and are products we know you'll add to your cart and purchase now.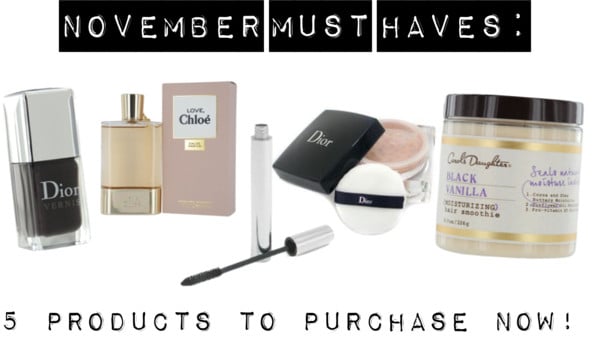 Must Have Product #1: Dior's Vernis nail lacquer
WHY You'll Want It NOW: This nail polish is vibrant, long lasting, and luminous in color. What better way to paint on silky smooth, long lasting, glossy nail lacquer than to do it with our discounted Dior Vernis nail lacquer?
Must Have Product #2: Chloe Love by Chloe
WHY You'll Want It NOW: A fragrance that is romantic and feminine that combines the floral notes of iris, lilac, hyacinth and wisteria blossom with powdery musk for a scent that will last all night long. If you have a taste for elegance and luxury, you will love Chloe Love.
Must Have Product #3: Clinique Naturally Glossy Mascara in jet black
WHY You'll Want It NOW: You'll get great looking lashes that are visibly longer and thicker. This mascara instantly create a striking, beautiful glossy lash. 
Must Have Product #4: Christian Dior's DiorSkin Matte & Luminous Hydrating Loose Powder
WHY You'll Want It NOW: It's modern, gives matte and a satin soft finish, all while replenishing moisture to keep skin hydrated for more than 6 hours. If that's not enough, the delicate texture perfectly adheres to skin and leaves a fresh, radiant complexion.

Must Have Product #5: Carol's Daughter's Black Vanilla Hair Smoothie
WHY You'll Want It NOW: A yummy treatment that deeply nourishes hair that is dry and dull, the sunflower oil, cocoa and shea butters promise to deliver intense moisture and detangle the worst strangled of hair.What are you waiting for? Go ahead and take a big gulp out of this delicious smelling, moisturizing hair smoothie!