Doesn't it feel like we skipped a few months in 2015? Seriously, it's almost the holidays and we already have to start thinking about this year's best Black Friday and Cyber Monday fragrance deals. I don't know about you, but this is the time where I really have to buckle down and start figuring out my attack plan.
Don't get me wrong, I love shopping as much as the next person but trying to figure out what to get everyone on my list – it's a long list – and trying to find ways to save money is a hassle. That's why my to-go gift is fragrances.
When I think about some of my favorite gifts that I've received over the years, my memory fades back to me opening a brand new bottle of perfume. I'll never forget the Secret Santa gift exchange that my friends and I had two years ago. My gift was this beautifully wrapped square package and I tore through the gold glitter wrapping paper to find a box of Chloé by Chloé Eau De Toilette and body lotion. It's a delicious bouquet of honeysuckle, jasmine and orange flowers and to this day, I remember how intoxicated and enamored I felt the first time I sprayed it.
A smell can bring on a flood of memories in an instant and when you give the gift of perfume, the brain forges a link between the event, the person, or even the moment that you first smelled it. You want your gift to be associated with a positive and happy memory and that's why fragrances are so popular for the holiday season.
So, whether you're splurging on a designer fragrance for yourself or picking out gifts for your family and friends, this guide will outline the must have gifts for the holidays.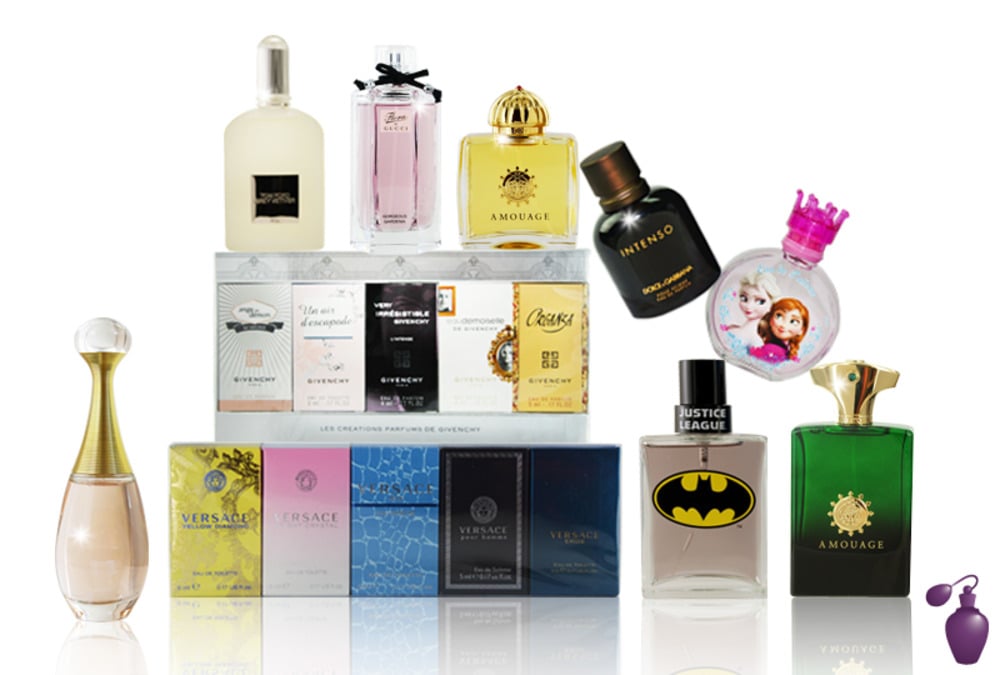 For Him:
Dolce and Gabbana Intenso: If you have a modern guy on your list that's into smooth jazz, then this is the fragrance for him. Intenso is a heavy fragrance which elicits a modern interpretation of classic tobacco. It's laced with lavender, vanilla, basil and sandlewood and will wear great during the colder winter months. ($62.99)
Tom Ford Grey Vetiver: This fragrance is an oldie but a goodie. Tom Ford Grey Vetiver has an exotic combination of notes from grapefruit, aromatic sage, orris, orange blossom, pimiento, oak moss, amber woods, and nutmeg. This is an investment that you want to make if you're looking for a great gift that your guy can wear every day to the office or on a weekend shopping trip with you. ($120.99)
For Her:
Gucci Flora Gorgeous Gardenia: Why get her a bouquet of flowers when you can get her a bouquet of Gucci? If you have to pick one, then make sure that you order a bottle of Gucci Flora Gorgeous Gardenia. It has a beautiful arrangement of brown sugar, patchouli, frangipani, gardenia, pear and red berries – everything you need to put a smile on her face. ($62.99)
J'Adore Christian Dior: Floral orchids, violets, rose, jasmine and blackberry musk - J'Adore by Christian Dior is a sensual aroma that exudes luxury. Let her discover this opulent fragrance this holiday season and it will be one that she will remember forever. ($124.99)
For The Kids:
If I told you that I know a few kids that have a bigger fragrance collection than I do, would you be surprised? There is a huge selection of character themed fragrances that cater towards the younger crowd and I'll admit…the bottles are pretty adorable.
If you had to purchase an Elsa and Anna costume for Halloween (and I'm sure that you did) then you might as well pick up the Disney Frozen fragrance ($16.99). And if you know any superhero fans that need some new tools for their utility belt, try this Batman fragrance by Marmol & Son (15.99).
More Bang For Your Buck:
If you want to give a lot for a little this holiday season, try our Variety Perfume Gift Sets. There are a ton of options that you can pick up for any fragrance lover on your list. Take these variety gift sets for example…
Versace Variety gift set: This is a 5 piece unisex set filled with mini fragrances of Versace Man Eau Fraiche, Versace Signature, Versace Bright Crystal, Versace Yellow Diamonds & Versace Eros. This is the perfect way to introduce new scents to someone on your list. ($40.99)
Givenchy Variety gift set: This is a 5 piece gift set which includes mini fragrances of Givenchy Ange Ou Demon Le Secret, Givenchy Un Air d'Escapade, Givenchy Very Irresistible L'Intense, Givenchy Organza and Eau Demoiselle De Givenchy.
For Yourself:
Let's be honest…you can't shop on Black Friday and Cyber Monday without getting something for yourself. I know that you've been eyeing a few of those luxury fragrances all year too. Well, when in Rome…
If you've ever wanted to try a fragrance by the Amouage fragrance house, you're never going to find a better time to splurge. Amouage is a luxury fragrance house that was founded in 1983 by the Sultan of Oman. He wanted to create and redefine the Arabian art of perfumery. With bottles as beautiful as these, how can you not want one in your collection?
Don't forget to let us know if you snag a fragrance for an amazing deal on our website! Tweet us on Twitter or post a comment on our Facebook page.
So, you've never heard of Green Monday? Let's just say it's the Cyber Monday or Black Friday for the shoppers we can label as 'procrastinators'. Today, we're giving you FREE US Shipping, no minimum purchase required! Just use code GMFS7 at checkout and enjoy your savings!