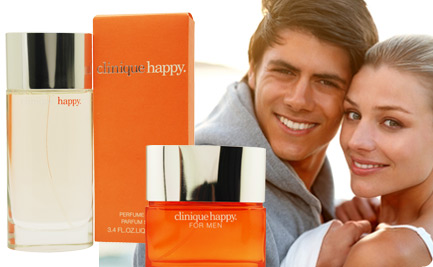 C'mon and get happy friends and fragrance fans all over! Be playful, get lively, be happy, with Clinique's fragrance for men and women!
The men's scent, a fresh cologne, blends a citrus lemon scent with tones of mandarin orange and grapefruit -- ah, what a delightful citrusy blend. Happy is perfect for daytime wear--whether preparing for a long day at the office or heading out for a weekend adventure, this scent guarantees to bring some energy and excitement to your entire day!
The women's scent, a staple perfume for many ladies since it was first introduced in 1997, is a sublime fragrance that bursts with light, mood-enhancing fruit and floral notes. Add a breath of fresh air to your day with this floral, citrusy bouquet scent, including notes of apple and bergamot. Dab a bit of this perfume on your wrist or neck for a mood lifting fragrance that will stay with you all day long.
Be Happy, Get Happy by Clinque.