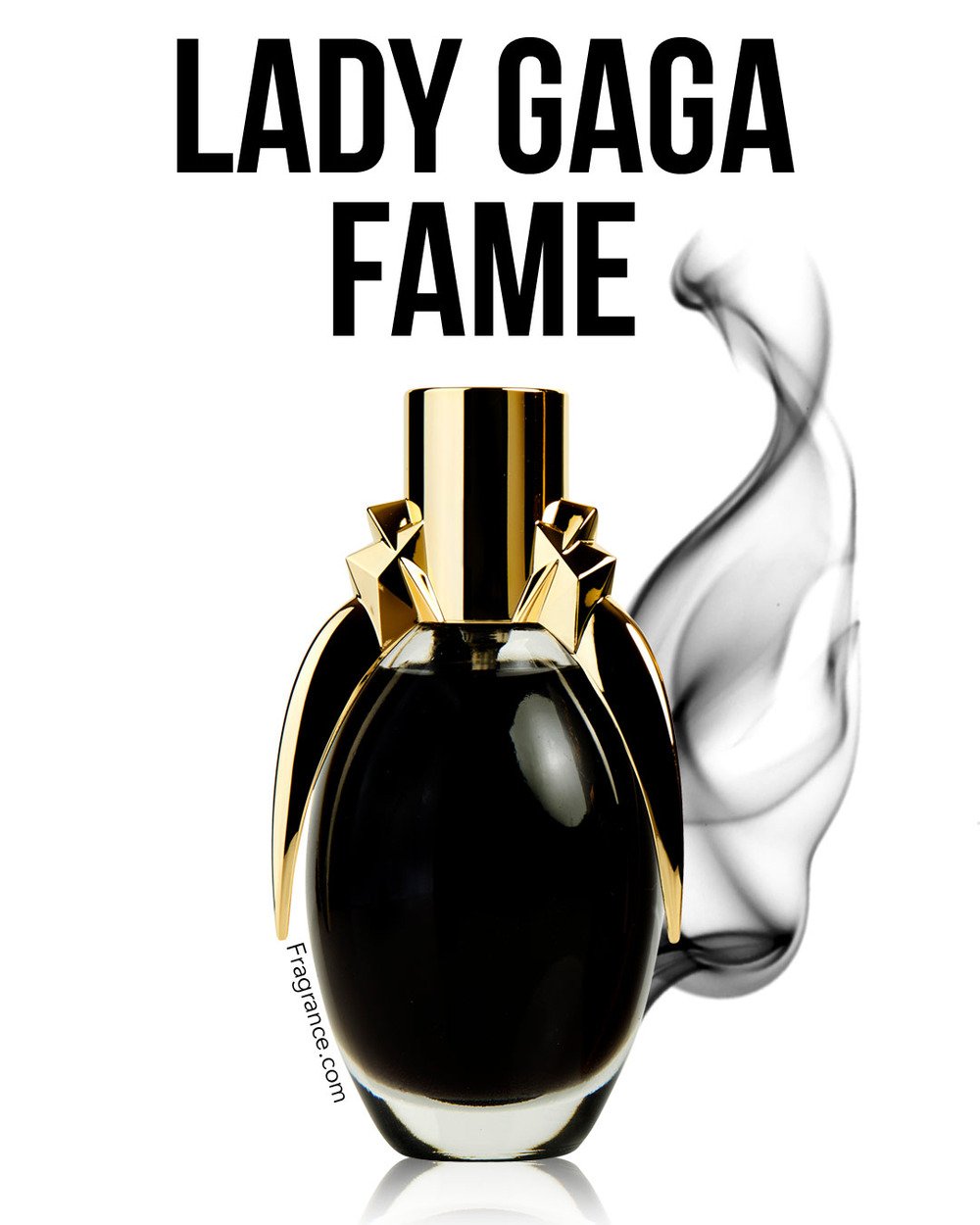 Back in 2012 when Lady Gaga announced her fragrance Fame, fans were abuzz. With a spectacular bottle and overtly provocative campaign people eagerly anticipated this fragrance from the avant-garde songstress. People flocked to this fragrance, yet some were left feeling a little disappointed. They wanted to smell a crazy bizarre concotion reminiscent of Gaga's red carpet looks, and instead were left with a unique and beautifully wearable fragrance, not the weird elixir they had imagined in their head.
So over 5 years later what do I think of it? Well I think the negativity around this fragrance was due to peoples hyped up preconcieved notions that this would be a bizarre and otherworldy perfume. Rather, the fragrance is unique and wonderful and a lot of people have come to love and admire it, even though it doesn't smell like her infamous meat dress!
Fame has notes of orchid, apricot, saffron, honey and incense. It opens very sweet and floral, almost nectarish, and dries down slightly smokey and fruity. I personally love a good honey note in a fragrance, and Fame does it right. It pairs so effortlessly with the apricot, and has a somewhat startling juxtaposition with the saffron and incense.
Though it's not as crazy as people were expecting, there is a certain uniqueness to this fragrance. The notes are special and come together to form a wearable beauty.
In 1987, Elizabeth Taylor introduced White Diamonds perfume to the fragrance industry which paved the way for the wildly popular celebrity signature scent. Her lightning-rod success inspired more and more stars to jump on the fragrance bandwagon. Today, everyone from movie stars to musicians to professional athletes has a fragrance to call their own.

These days, it comes as no surprise when a famous face announces a fragrance launch; in fact, it's almost a rite of passage to have a celebrity perfume.

Jennifer Lopez was also instrumental in giving life to the celebrity fragrance craze with JLo Glow, launched in 2002. Glow was so well received and shattered sales records that it inspired a slew of other stars to jump on board.

The list of celebrities who have a signature scent is long and wide, and includes names like Beyoncé, Sarah Jessica Parker, Jennifer Lopez, Christina Aguilera, Antonio Banderas, Jennifer Aniston, Britney Spears, Celine Dion, Gwen Stefani, Halle Berry, and on and on it goes.

Elizabeth Taylor's White Diamonds perfume remains the top-selling celebrity perfume in the world, according to a recent report by Euromonitor. Other fragrances that often remain in the top 10 includeSean Jean's Unforgivable, Celine Dion, Lovely by Sarah Jessica Parker, Britney Spears Curious, Glow by J.Lo and Fantasy by Britney Spears.

Perfumer Coty has catapulted many celebrity fragrances into the limelight, specifically Beyonce's Heat, Halle by Halle Berry, Faith Hill True and Baby Phat Dare Me, pioneering the rise of celebrity scent-dom.

So, what's the fragrance juice on the top 10 celebrity fragrances?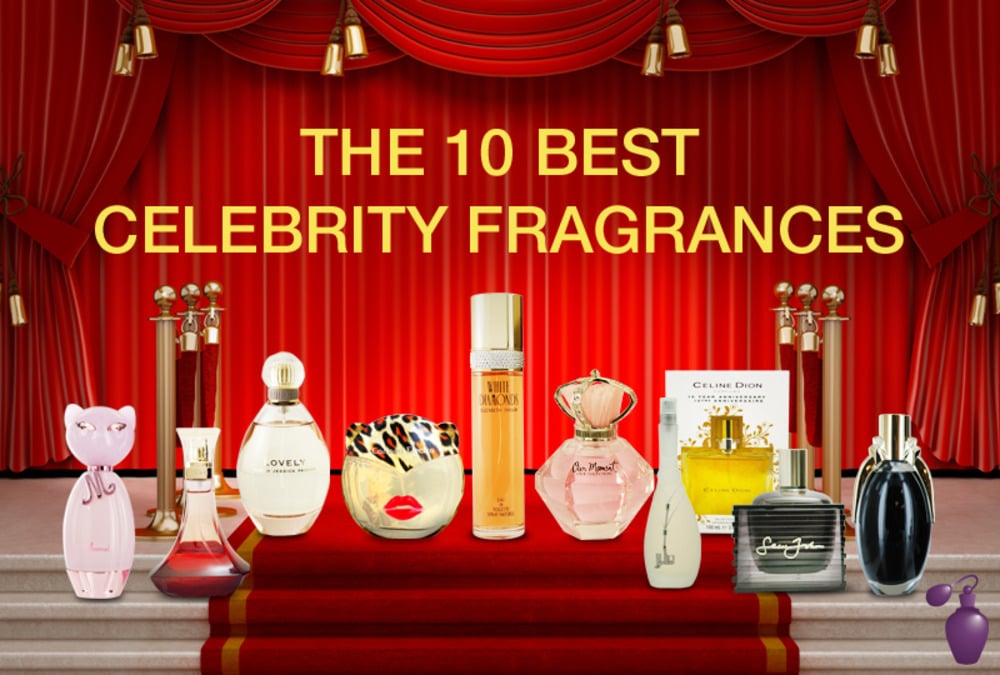 White Diamonds by Elizabeth Taylor

Fragrance notes of lily, rose, amber, oakmoss and sandalwood are masterfully blended in White Diamonds perfume, reflecting Elizabeth Taylor's forever intriguing, glamorous and sensual style.

Glow by JLo

Glow by Jennifer Lopez is one of the best-smelling celebrity scents on the market today. Beautiful floral notes combine with amber and vanilla to create a fresh-sexy-clean scent -- the aroma of excitement, the rhythm of attraction.
Fame by Lady Gaga
You wouldn't expect this by looking at the bottle but Fame by Lady Gaga is a surprising sweet and floral fragrance with a blend of belladonna, orchid, saffron, incense, honey and apricot.
Our Moment by One Direction
This eau de parfum is perfect for a little princess. It has floral and fruity notes of pink grapefruit, forest fruits, red currant, freesia, jasmine, frangipani, patchouli and musk.
Heat by Beyoncé
The perfect scent for the summer. Heat by Beyoncé has notes of sequoia milkwood, almond macaroon, blush peach, magnolia, tonka bean, neroli, amber, creme de musk, red vanilla orchid, honeysuckle nectar

Unforgivable by Sean Jean

A sexy blend of herbal and warm notes are the essence of Unforgivable cologne. Juniper, bergamot, champagne, basil, tonka bean, birch leaves, sage, iris, cashmere, sandalwood, sea moss and grapefruit are present here, giving Unforgivable its power, attitude and elegance.

Lovely by Sarah Jessica Parker

Sarah Jessica Parker's Lovely is indeed lovely with soft citruses that intersect with rosewood and just the slightest touch of lavender. Sarah Jessica Parker Lovely perfume is undeniably sexy and extremely classy, an aromatic gift of elegance and style.
Meow by Katy Perry
A fun blend of gardenia, jasmine, tangerine, vanilla, musk and sandalwood make Katy Perry's Meow an electric fragrance.

Carmen Electra by Carmen Electra
Take a walk on the wild side with Carmen Electra's first perfume. It's a sexy & playful fragrance that opens with a cocktail of juicy mandarin, peach nectar & wild blackberry before falling onto a bed of gardenia petals, night blooming jasmine, caramel and tiger orchid.
Celine Dion by Celine Dion

Pop star Celine Dion's voice is as pure as the day is long. And so it goes with Celine Dion perfume, which was inspired by Dion's passion for love and family. There's no diva to this fragrance, which is a refreshing, clean scent with a slightly woody undertone. Subtle but fabulous, just like the pop star herself.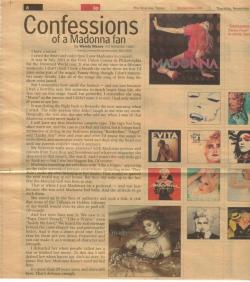 I just read in the news today that Madonna is close to signing an agreement with Coty to launch her first fragrance.
I will confess. I love Madonna. I'm sure that shows my age, but that's OK.
Madonna was a strong presence from adolescence through college, and beyond. I even wrote an article about Madonna in the local newspaper a few years ago (pictured here).
It wasn't her singing -- we all know she's not the greatest singer on the planet -- but her bold courage that drew most of us young girls to her. She certainly paved the way for women performers. Even Lady GaGa has said was inspired by Madonna.

Will I buy her new fragrance? Probably. Even if I don't like how it smells on me.
I guess it's about loyalty. Or nostalgia. Or a little of both.