Salicyclic acid (pronounced sal·i·cyl·ic ac·id) is a monohydroxybenzoic acid, say what? In simpler words, it's an anti-acne treatment that works as an exfoliant, sloughing away dead skin cells. It basically helps keep the pores clear of any cellular debris, aka, your pores getting clogged, resulting in breakouts and blemishes on the skin. This powerful ingredient also serves as an anti-inflammatory, reducing redness associated with those pesky pimples, breakouts, and more. In addition, it has anti-bacterial effect, helping to reduce and prevent future breakouts on the skin.
Why YOU need it?  If you haven't tried products with salicyclic acid, you wouldn't understand why you must have, can't live without, NEED it! More likely than not, you have used products that contain salicylic acid without knowing it. This product works wonders and used in a daily skin regimen, can really make a difference in your quality of skin. As a natural exfoliant, this ingredient clears out pores and works hard to keep them clear. Without paying for an expensive skin procedure, any product containg this one ingredient will work hard for you, instead of you having to do all the work.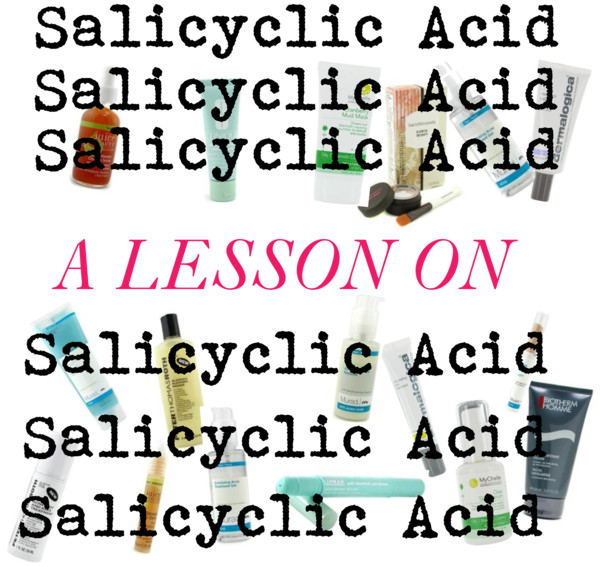 Our Top Picks...and why?  Here's the list, the very long, long list of lovely products that are our top picks (discounted on our site, of course):
Juice Beauty's Blemish Clearing Serum, a serum that contains powerful hydroxy acid complex blends with organic apple, lemon, and raw cane sugar to help clear those blemishes and even out skin tone. To use it, just apply it evenly to the face and neck, under moisturizer or alone.

Medibac Clearing Concealing Spot Treatment by Dermalogica
Clinique's anti-blemish solutions clearing moisturizer replenishes moisture to relieve dryness and peeling and eliminates existing blemishes and prevents future breakouts. Not only that, but it absorbs excess oil and reduces shine, calming skin and reducing redness.

Ultracalming Redness relief with SPF 20 by Dermalogica is great for sensitized, reactive and recently resufaced skin. You can easily (and affodably) neutralize, relieve, and defend against inflammation and redness with this three-in-one SPF moisturizer.
Biotherm's Homme facial exfoliator is a manly foaming cleansing gel that deeply cleans skin, lifting away impurities and dirt and helps prevent ingrown hairs. Prep that skin for a closer, comfortable shave with this face wash designed specifically for men. 
Juice Beauty's Blemish be Gone
Bare Escentuals Blemish Therapy, a way to conceal and prevent future breakouts, is easy to use and the results are REAL! See how to use the blemish therapy here.

Clinique's anti-blemish solutions post blemish formula, a unique post breakout treatment cream that diminishes dark spots and discoloration from a blemish after healing and is super easy to use in it's pen applicator. This portable pen will even out skin tone and overall, improve your complexion.
While the list can go on and on, I think I'm going to wrap it up! Definitely check out other great products that offer the terrific ingredient, salicyclic acid, like products from Peter Thomas Roth, Murad, and Mychelle skincare.

Doesn't it feel like the day before an event, a big something to do, or a party you've planned for what feels like forever, a zit pops up right smack in the middle of your face? As annoying as it may seem, it's (almost) compltely normal...think about it, you've been stressing over this day for some reason or another and your skin is getting stressed too, why wouldn't it?! But it doesn't have to be like that if you use a blemish therapy product we carry, by Bare Escentuals.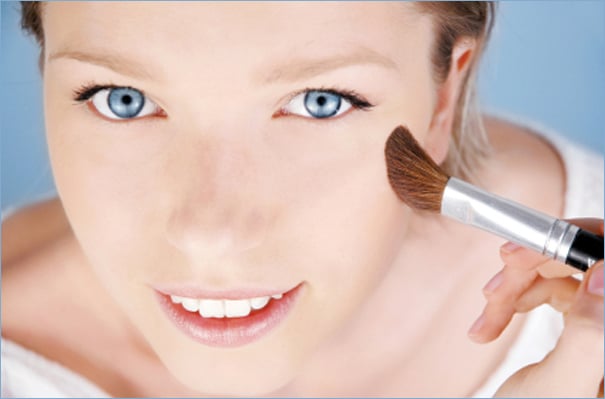 Use this daily, and you can conceal and prevent future breakouts with this remedy and brush. It's easy to use and results are REAL! Not only does it prevent future breakouts, but it also helps minimize the appearance of pores, reduces redness and diffuses imperfections, like magic. 
It's easy to use too!  All you have to do is swirl the brush into the treatment, and like all mineral product, tap off the excess and gently pat onto the blemish. Have a large problem area and not just one or two zits to cover up? Apply a light layer of treatment over the entire affected area. 
Typically have one area or zone on your face that you are prone to breakouts? Use a light layer of this powder therapy on these areas daily to prevent new breakouts from ever forming.
Will you say yes to blemish therapy by Bare Escentuals?
There's those of us who have blemishes and want to cover them up, then there are some of us that just want to rid them and prevent future breakouts. Now, with Bare Escentuals Blemish Therapy, you can do both, conceal and prevent breakouts with this targeted remedy and brush therapy!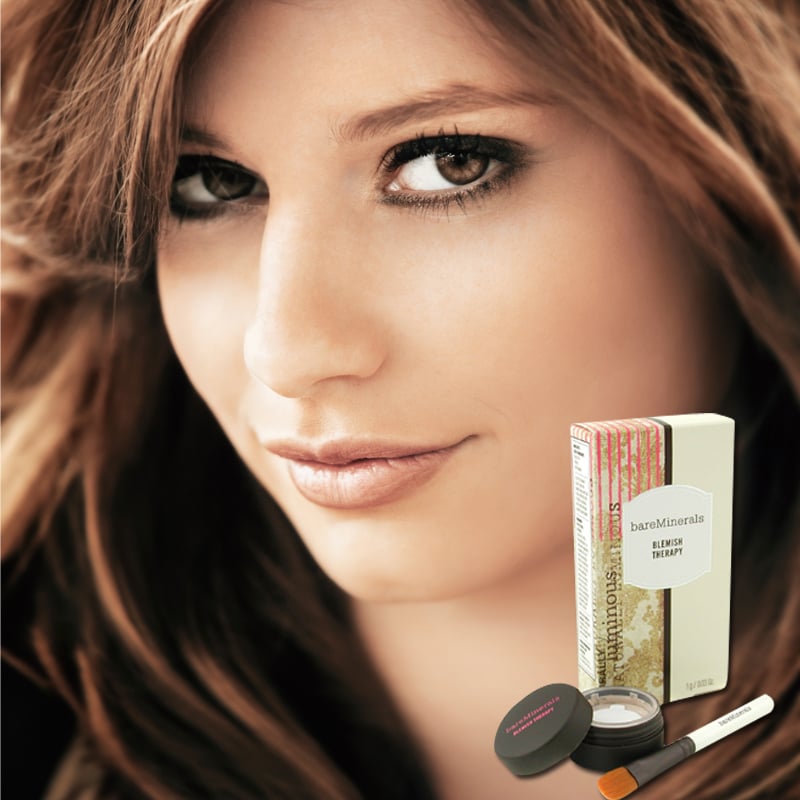 This system is gentle and extraordinary for your skin in almost too many ways to list, but you know we will. Let the fun begin!
Using this beneficial mineral care, your skin's cell turnover increases, resulting in a quicker healing time
Because of this, it is 'clinically proven' to reveal brighter, smoother, younger looking skin and even reduces the appearance of fine lines and wrinkles and give you smaller looking pores
Have you fallen in love with the product yet?
This foundation will you give you a better looking complexion instantly and will truly reduce blemishes and break outs leaving your skin even toned and clear.
Ready to buy and use?
It's really simple actually, you swirl your brush into the powder treatmeant, and like all Bare Escentual products, tap off excess and gently pat onto your blemishes. For larger problem areas, brush a light layer over the affected area.