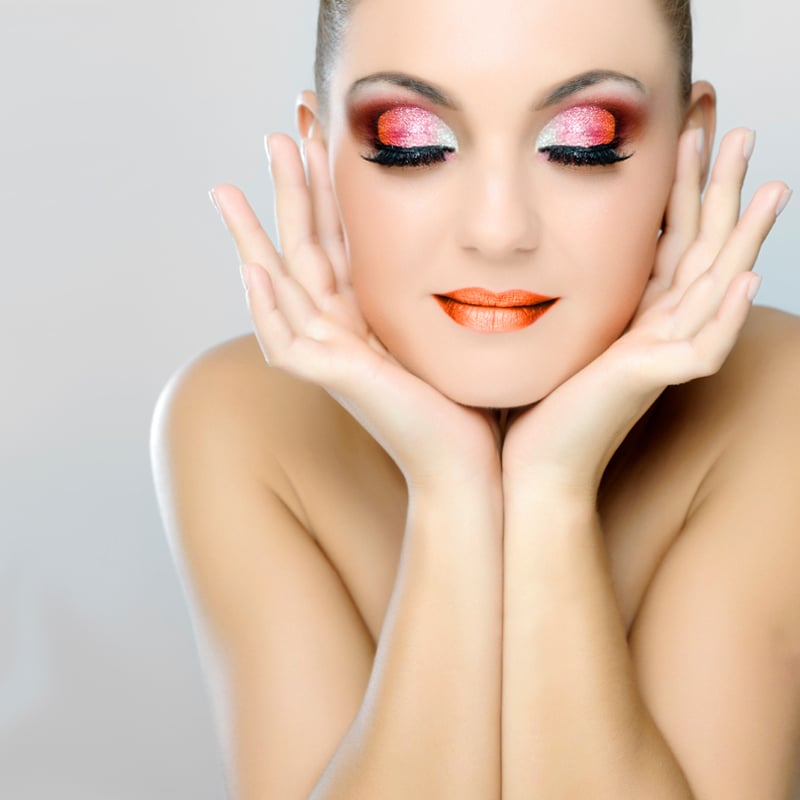 Just noticing the extreme color palettes lining beauty store shelves? You're not the only one, but instead of wondering who would buy them – shift your focus, how can I work those crazy shades into my routine? The answer is simple, by pairing the bold neon tones with simple nudes.
Add emphasis to your eyes by using a liner with a lot of color – we like MAC's Mega Metal Eye Shadow in lucky green. Let the liner stand out by pairing it with a more neutral shimmer all over your lid, like the light Suivez Mon Reagrd Intense Shimmer Eyeshadow by Bourjois in Regard Sable Nacre.
Don't want to emphasize your eyes? Go for a bold lip instead with a neon orange or pink color. The Korres Lip Butter in Mango has a sweet taste with the perfect amount of intensity. Once you've swiped on the chic color, pair it with other basic elements to keep your look natural. Opt for a traditional matte foundation, but to add dimension try Edward Bess' All Over Seduction Cream Highlighter. This product will help keep the finished look bright, but natural.  
What neon shade would you want to work into your beauty routine? Let us know in the comments below!
Spring hasn't sprung yet, but we're sure ready for it when it's ready for us! Which is why now is the perfect time to prepare! Now is the time to read up on the beauty trends to look forward to (and shop for) this spring!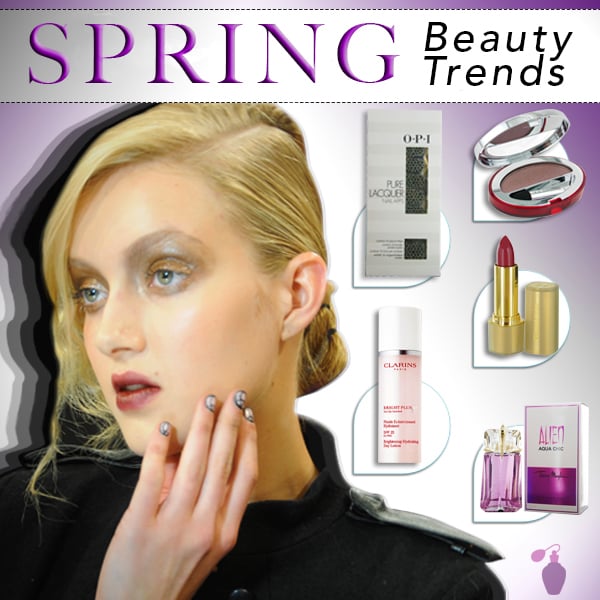 Manicured, Well Detailed Nails
If you don't already know, nails are major...they have been the past year or so, and a 'regular' mani just won't cut it anymore. That's why we are proud to carry OPI's Nail Lacquer nail apps, an easy (and super affordable) way to have a trendy nail that is long lasting and do we have to say it again, super trendy! GET THE LOOK: Shop OPI Nail apps
Neutral Eyes
Go easy on the eyes, it's soon to be summer time! A nude, natural eye is key, especially if you want to go with a bright matte lip. Choose either bold eye or bold lip, but never choose both! If you choose to go neutral with your eyes, which we suggest you do, you'll love Clarin's single eye colours! GET THE LOOK: Shop for Clarin's eye shadow. 
Matte Lips
This spring, drop the gloss and go for a matte textured lip look. Think velvety smooth and definitely not dry. First, use a lip exfoliant to prevent any peeling or chapped lips and make sure to keep that pucker moisturized for a long lasting, matte look. Get the Look: KISS ME Exfoliating Lip Scrub by Philosophy & we love Kevyn Aucoin's Matte Lip Color in Timeless.
Dewy Skin
Moisturized, healthy skin is 'so in' this spring, but really, when is it not? Get a hydrated, bright look with Clarin's Bright Plus hydrating lotions with SPF 20. This stuff is beauty in a bottle, once you apply this onto your skin, you will see instant results and instant luminosity.  GET THE LOOK: Clarin's Hydrating Skincare
Summer Chic Fragrance
Last but not least, we could never forget to complete the look with a fragrance. New, limited summer edition Alien Aqua Chic by Thierry Mugler may just be the perfect spring scent, with notes including ginger, lemon verbena, freesia, wood, and amber. GET THE LOOK: Alien Aqua Chic

Sick and tired of reading about all these fall and winter beauty trends that only maybe 25% of us (if that) can pull off! Sheesh, so are we! There are 5 fall beauty trends that anyone, we mean ANYONE can pull off this season! Drum roll please....
The first beauty trend ANYONE can pull off is, a dark nail polished look.
Summer is over and sorry to say, it's time to switch the polish shades from bright and sunny to deep and dark. If you don't want to get too dark, that's totally cool, just go with a deep red, like the lovely Dior Vernis color in massai red.
Flirty, flashy lashes are always 'in' and that's why it's just one of the fall beauty trends that ANYONE can pull off, whenever! We love Helena Rubinstein's lash queen feather mascara, a mascara that creates a long lasting feather light lash with heavy duty volume. Get maxi-volumizing lashes and a mascara that will give your eyes a striking look!
Who doesn't look good in an exceptionally smooth, longwearing lipstick look? This Givenchy satin lipstick gives a sexy, light-reflective color to lips, and why is that? Because not only does it give off a beautiful color, it also nourishes and hydrates lips with it's powerful anti-oxidant ingredients. Sooth and soften your lips, while looking pretty trendy too with this lovely lipstick!
Prevent that lipstick from fading, feathering, and bleeding with this hydrating and soothing perfetta lip pencil by Borghese. This lip pencil gives full color to your lips, with a long lasting, soft blending look. 
The last beautiful product from our site that will be the perfect complement to you this season is Gucci's perfume, a moderate fragrance with notes that include chamomile, guava, pear, patchouli, Tahitian Tiare flower and musk. This scent will add just a touch of spicy scent to your pulse points to leave you smelling lovely all day (and all night long). While layering up on the clothes, don't forget to layer up with your scent too! Snag a Gucci shower gel, body lotion, and eau de parfum spray.