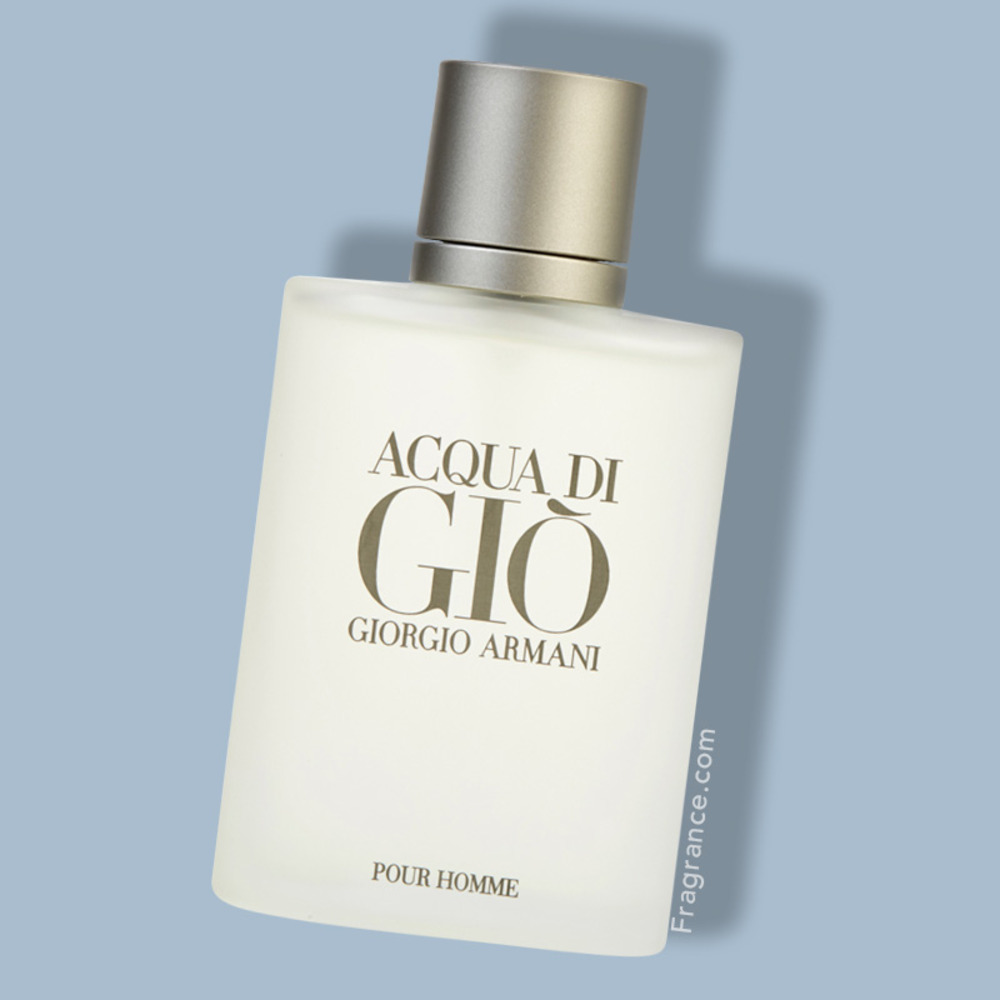 According to Giorgio Armani's parent company L'Oreal, a bottle of Acqua di Gio cologne is sold somewhere in the world every five seconds! This No.1 best-selling men's fragrance is now a global phenomenon, and there is no wonder why. Acqua di Gio boasts a very complex blend of accords that make up the most versatile and much-loved men's cologne on the planet.
Acqua di Gio is a marine-style scent that is clean and unassuming enough to be worn to the office, yet sophisticated enough to spritz when heading out for the night. A fragrance full of contrasts, Acqua di Gio's refreshing oceanic accords are as crisp as a sea breeze, making it an excellent choice for summer. Its fragrance trail is multi-faceted with sensual notes of fruits, herbs and woods.
This eau de toilette embodies the Mediterranean isles. It evokes sensations of sea, sun, earth and air … transparent and harmonious, with an energizing aspect that is both bracing and masculine. It opens with sparkling bergamot, lemon, mandarin and orange and fades into an aromatic/floral heart of coriander, freesia, jasmine, violet, rockrose nutmeg and oceanic accords. In the base, the lingering notes are cedar, patchouli, moss and white musk. Acqua di Gio's complexity makes it difficult to distinguish any given component, but the sum of its composition is lasting and memorable.
Acqua di Gio cologne deserves every accolade and success it has garnered. It is full of refined nuances and subtleties that make it distinctly masculine, and distinctly Giorgio Armani.
Armani Si by Giorgio Armani is a couture eau de parfum for the modern woman. It is an irresistible fragrance that will leave a lasting mark on those who may cross your path. The contemporary woman embodies strength and independence while still owning femininity and grace, which is represented in Si. At first spray it is soft and delicate, and hours later it remains vigorously fragrant, revitalizing the senses throughout its wear. Excellent for day to day or a special night out, this exquisite fragrance could quickly become your signature scent. Its sensual nature makes it irresistible for that special someone in your life and a must for date night.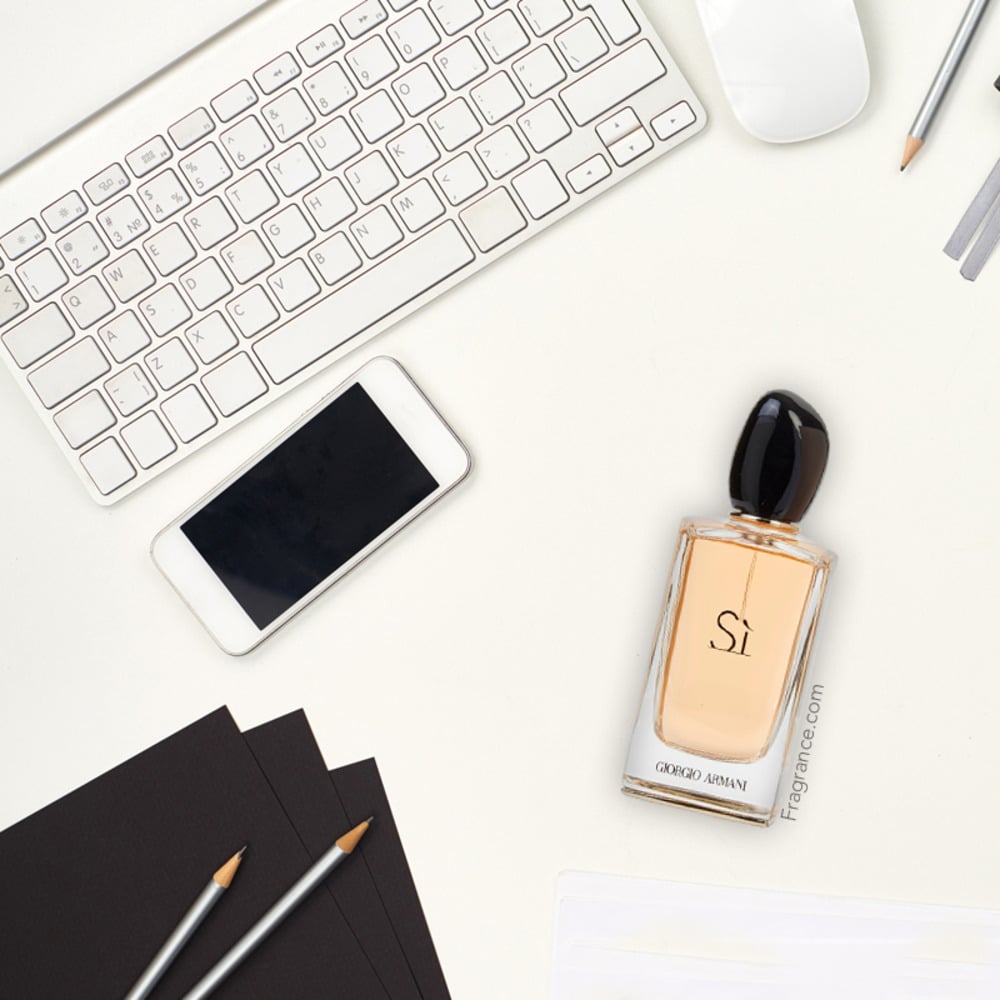 Si is love at first sight with airy florals, and remains an infatuation throughout the day. The top notes make you fall in lust with its blackcurrant nectar and white cedar wood. The middle notes will let on nectar, rose de mai, cassis, and freesia which divulge a blossoming aroma. Rounding out the scent is musky blond wood, vanilla, patchouli, chypre accord and orcanox making a flirty impression on those who get a trace of it.
Giorgio Armani Si is a scent you will find yourself coming back to for day to day wear. When sprayed on the pressure points, it lasts throughout the day or night without being overbearing. Whether you're at the office, or have a night full of romance planned, reach for Si to express femininity with a sweet, sexiness. This eau de parfum is highly recommended for any modern woman who says Si to romance, elegance, love and independence. Not to mention…the stylish and modern bottle adds a chic touch any collection!
Following on the heels of the glitzy and over-the-top 80's (alas, where art deco revival, shoulder pads and sequined sweaters were rife), the 1990's ushered in a sense of relaxed genderlessness and androgyny. Gone were the bells, bedazzlers and whistles of the previous decade and instead, well-edited, sleek uncomplicated design became the new 90's norm. In 1998, as we tippy-toed towards a new Millennium, Emporio Armani created 2 fragrances packaged in true minimalist space-age style; namely Emporio Armani He, and Emporio Armani She. The feminine of the pair - presented in a brushed pale-nude aluminium column - fast became the "it" scent of its age.
As the name suggests, She is an ode to femininity, but one with an unusual millennium slant: top notes of juicy pineapple, zesty lime, mandarin and pear, dance over a delicious heart of heliotrope, jasmine, iris and lily-of-the-valley. These pretty fruity and floral notes have been meticulously blended with a series of richer, earthier accords which serve to diminish their sweetness… sandalwood, musk, almond, cedar and amber each lend a certain warmth and sense of somehow being grounded. She surprises with it's innovative end result which feels both botanical and synthetic (in a good, cryogenically-frozen kind of way)!
Emporio Armani She shot into the stratosphere after it was launched and is still adored by women (and men!) around the planet. It provides us with an interesting snapshot of the perfume world as it stood just as we were about to step over the threshold into the 2000's. For that reason, and many others, it's enduring appeal is timeless.