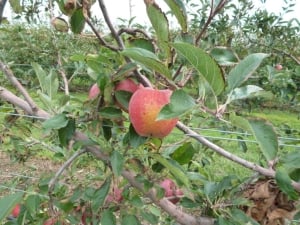 This past weekend I took my kids apple picking and I noticed a familiar and comforting smell ... crisp air, falling leaves and the sweet smell of the fall harvest. Obviously, fall is just around the corner.

The beginning of fall means a few important events for our family. For one, football season begins, and I lose my normally healthy husband and son to nachos, chicken wings and beer (for the husband of course). Our wardrobe gets a makeover as we exchange our shorts and sandals for sweaters and boots. Plus we await shorter days and longer nights.
While this may be a dreaded transition for some, for my family, each season is its own celebration. For us, the warm smells of cinnamon and apple, the comfort of our favorite scarves, the great cozy nights by the fire playing board games, and the deep rich colors of crimson and gold are magical.
In my motherly effort to embrace the season, the citronella candles are switched out for warm scented candles, the flourescent nail polish is switched to darker, bolder colors and the flowery fragrances are replaced with my favorite orientals and greens.
Happy fall to all!
 
(Patti K. is FragranceNet.com's vice president of business development. She has been with the company for almost seven years. Patti believes in love at first sight -- it's how she met her husband and how she feels about her two kids.)
It won't be too long until the landscape for most of the country becomes brown and drab again. As summer fades into fall, we will begin to lose sight of the vibrant greens that so define the season of the sun. And because we don't want to rush summer off too soon, we're dedicating this blog entry to green summer fragrances. Besides, won't you miss that smell of fresh-cut grass?

Green notes include everything from green tea accord to cucumber and violets. Often, green notes are blended with fruity florals to create a refreshing fragrance, the scent equivalent to a fine sauvignon blanc from New Zealand's Marlborough region.

The following are some of our favorite green fragrances (for men and women).
Marc Jacobs Grass: The name on this one pretty much gives it away. This invigorating perfume smells of fresh-mowed grass and soft woods. Jacobs has successfully taken the essence of a summer morning and stored it in a bottle. And like any summer morning, Marc Jacobs Grass is brimming with possibilities. The designer also makes Marc Jacobs Cucumber, Marc Jacobs Basil and Marc Jacobs Gardenia.

Creed Irisia: Irisia is a timeless classic fragrance for women. Wearing Irisia is like taking a walk through a secret garden filled with tuberose, violets, bergamot and the stunning iris, which is this perfume's highlight green accord.

Usher UR: UR cologne gets its green-ness from its herbal notes of basil and bay oil. These refreshing accords are layered over spicier notes of guaiac wood, cashmere wood and sandalwood.

Demeter Fragrance Library: Demeter has rolled out a collection of fragrances that mimic everything from the smell of homegrown tomatoes to ripe cucumbers. Demeter's mission is to create fragrances inspired by real life everyday objects and experiences. There's even one called Poison Ivy.

Estee Lauder Aliage: Aliage, Estee Lauder's sports fragrance for women, opens with a blast of jasmine and cool citrus, giving it an invigorating, vibrant green opening.

A Scent by Issey Miyake: According to the Issey Miyake Website, A Scent is a feminine perfume inspired by pure fresh air. Heart notes of hyacinth and galbanum are accented by verbena and jasmine. Does it get much greener than that?

Aramis Devin: Devin cologne by Aramis is the green machine. This fragrance gets its green on early with opening notes of rich herbs and citrus, followed by intense spices of incense and patchouli.

Eau de Reglisse by Caron: Both the men's and women's fragrances contain green notes, but Eau de Reglisse perfume blends in a little more of nature's best with herbal notes of basil, lemon verbena and nutmeg.
 
LaCoste Essential: This men's cologne was created with a special time-release technology so that the fresh citrus accord lasts all day. Other green notes include tomato leaves and cassis, making LaCoste Essential cologne a unique and satisfying summer scent.

CK Truth by Calvin Klein: The heart of CK Truth men's cologne is watery greens, flanked and enhanced by fresh herbs of basil and cardamom. The green accords are everpresent, even through the woodsy drydown, intertwining nature and masculinity.
Headed back to school? Want to start fresh with a new fragrance? Here's our list of great back-to-school fall fragrances for girls and guys.


For Her

Thierry Mugler's Angel
If you don't already own a bottle of Angel (it's a popular fragrance), you need one. Angel is a refreshing woody fragrance that blends a sweet vanilla note with fall fruits.

Notes: Vanilla, sandalwood, patchouli, fresh citrus, melons, peaches, plums, heliotrope, pomegranate, vanilla, chocolate, sandalwood

Heiress by Paris Hilton
Heiress is a fruity floral with candy-sweet top notes; a little less HOT, a little more sweet.

Notes: Passion fruit, orange, peach granita, vetiver, tiare, tonka bean, mimosa, champagne, honeysuckle, jasmine, dewberry, ylang, grenadine, blonde woods, violet

Marc Jacobs Lola
A grown-up version of Daisy, Lola is for the flirty, fun, free spirit. Lola is innocently sexy with dazzling notes of pink peppercorn blended with subtle vanilla, musk and tonka bean.

Notes: Rose, pear d'anjou, pink peppercorn, geranium, creamy musk, fuchsia peony, ruby red grapefruit, vanilla, tonka bean

Vera Wang Rock Princess
Rock Princess is the older, sexier sister to Vera Wang's original Princess fragrance. It contains some of the same sweet notes as Princess, but settles on the skin a little darker than its predecessor.

Notes: Red raspberry, white peach, heliotrope, creamy coconut, jasmine, rose, musk, iris, vibrant bergamot; lily, cashmere woods

Mariah Carey Lollipop Bling Variety
Described as "romantic, fun and young at heart," Mariah Carey's new Lollipop Bling is a sugary-sweet scent that's perfect for back to school.

Notes: Notes vary depending on fragrance choice (Honey, Mine Again, Ribbon)

For Him

Abercrombie & Fitch Fierce
Guys, if you want to stand out, grab a bottle of Fierce. This head-turning cologne is great for getting the girls.

Notes: Orange, lemon, fir resin, petit grain and cardamom; middle notes are rosemary, jasmine, lily-of-the-valley and rose; base notes are musk, oakmoss, vetiver, Brazilian rosewood.

Dolce & Gabbana Pour Homme
D&G Pour Homme is for the confident guy who is comfortable with his masculinity. He's energetic, fun to be around and contagious -- like his scent.

Notes: Lemon, orange, lavender, sage, cedar, tobacco

Givenchy Pi
Givenchy Pi is full of infinite possibilities, and so is the guy who wears this popular fragrance. He's bold and adventurous, a true free spirit.

Notes: Patchouli, sandalwood

Lacoste Pour Homme
Edgy notes of cinnamon, juniper and plum make Lacoste Pour Homme the ideal fragrance for the sophisticated guy. He's most likely to succeed, but still knows how to have a good time.

Notes: Cinnamom, apple, juniper, plum, woods