Yesterday, we posted a tid bit of a fragrance bottle on our Facebook fan page for all of our lovely fans to guess what it is for a chance to win a $5 credit towards their next purchase.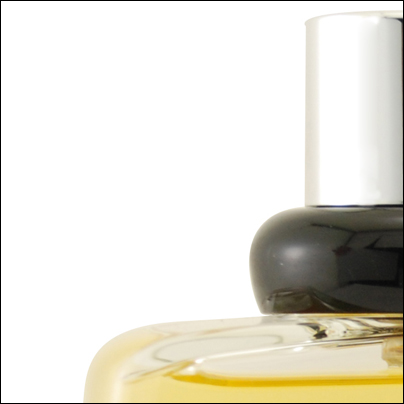 Let's just say, you guys are PROS...jeez, how do you guess it on the dot, so quickly? Well, great job to ALL those who played and until next time...
But for now, of course, we must announce the winner, yes?
CONGRATS to Kellie Lineberry, you were the first to guess it right, Gentleman by Givenchy. Kellie, please reach out to us on Facebook or email us at social@fragrancenet.com.
As for Gentleman cologne by Givenchy, this fragrance, first introduced in 1975 by Givenchy, is a woodsy, aromatic, spicy scent with lower notes of rose and leather.
We recently launched, for the first time ever, a Father's Day contest, asking our lovely Facebook fans why their father deserves to win a $250 FragranceNet.com gift card. With an amazing (and a bit overwhelming) response, we've read through ALL of the touching, loving, and sweet responses and have finally chosen a winner. Trust me, this was no easy task, but it had to be done. So without further a due, CONGRATS to Kiersten Mitchell. See her response below!
Kiersten, we're so happy we can help you give a little something back to your father-in-law for all the great things that he does and for how true he sounds! CONGRATS again :)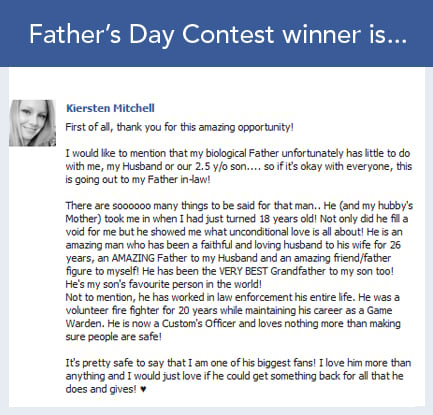 So a lot of our fans thought our photo caption contest photo was a little wacky, not sure why (aren't most photo caption contest photos wacky, wild, and weird), but besides the point, we're glad that some of fans understand that beauty (including facials with cucumbers) is not just for women! Men need pampering too! And to go along with the idea of pampered men, this is nothing compared to the hot topic of men getting their eyebrows done, hair done, nails done, and the hottest talk of the town, Brazilian waxes. The debate has been on about, "would you date a guy who gets a Brazilian" and sure why not, we'll pose that question for you too! So feel free to leave a comment below, we'd love to see your answers.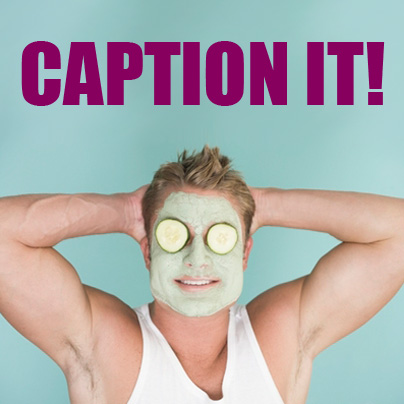 NOW, for the winner of our caption contest…
CONGRATS to Ana V Zelante Menegasso, with the most LIKES (10 as of 12PM EST, woo-hoo) with the caption, "Who said that men do not need good moisturizer? At Fragrancenet.com you can find the best for your skin."
Awesome caption Ana! Great job to everyone who participated, we LOVED the comments and what everyone had to say, you are all too funny!
Stay tuned for our next contest on Facebook and DON'T forget our Twitter Party on Tuesday, You're Invited!