Summer Scent Must Haves: Aqua Inspired Fragrances
Today we are totally inspired by aqua scented and looking fragrances; the clear cool blue color is as refreshing as a tall glass of cold water or a dip in the cool ocean waves…it just doesn't get any more summery than this!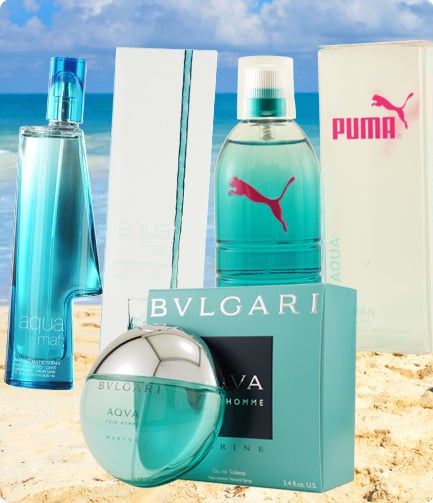 There are countless 'aqua' scents we could choose from, but these 3 really stick out to us! Wouldn't a resonant and enticing scent for a man, like Bvlgari Aqua Marine stick out for you? It's a casual chic scent for any time of day or night; it's fruity but very manly and will turn heads wherever you go!
Ever hear of Mat Aqua by Masaki Matsushima for men? This scent will be one you'll never forget. This will remind you of summertime, even on the worst, most wintry days. It's fresh, clean, and a very happy and fruity scent, perfect for summer and it's scorching hot days!
Tired of reading about these men scents? Here's one for the ladies, a refreshing fragrance for active women! Puma Aqua Woman has notes of strawberry, apple, sandalwood, water, hyacinth, patchouli, lime, and lovely white peach. Does it get any better than that?
Feel like you are on a tropical island wearing any of these scents!