Staff Picks: Makeup Removers
There is nothing more that I look forward to before going to bed than washing my face and removing my face and eye makeup. There were numerous makeup removers I've used in the past that claimed to get all that makeup off, but until I tried a few of the makeup removers below, I learned that these other brands and products I were using were just not sticking true to their promises.
I was amazed at the amount of product that wiped off with the remover and on the cotton ball, completely, and utterly amazed. Now I am sure that when using these removers, ALL of my eye makeup, from primer and liner to layers of mascara are being removed for a fresh, clean face.

Take your first step into discovering a new makeup remover, and start with one of these staff picks we know really gets the job done!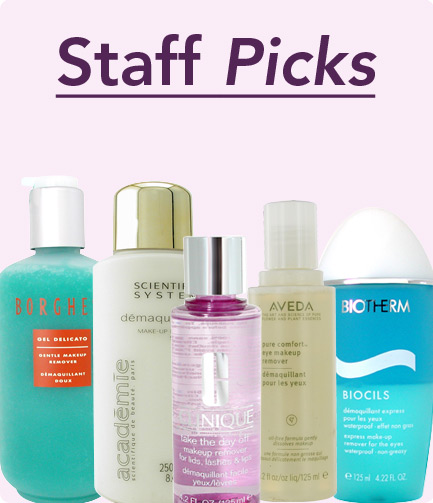 Aveda's Pure Comfort Eye makeup remover is a soothing treatment, let alone a way to remove makeup delicately from your eye area. The remover contains botanical extracts like cucumber and chamomile, and gently cleanses skin leaving it fresh.

Another gentle remover we love? Academie makeup remover, a gentle cleansing facial milk that helps dissolve all impurities and makeup, providing a gentle and thoroughly cleansed face.

Looking for a sensation of suppleness and freshness? Biotherm's Biocils waterproof eye makeup remover is a non-greasy one, that instantly removes makeup, even those hard to get off waterproof ones. Simply soak with a cotton pad and wipe away at your eyes.

Sooth your skin while removing makeup with Borghese's gentle makeup remover, that is an oil free liquid-gel. Not only does this product work great, it's also suitable for contact lens wearers, score!

Last, but not least, our final staff pick for makeup removers is Clinique's Take the Day off makeup remover, a remover that instantly takes off makeup on lids, lashes, and lips. It provides a super gently cleansing, and a gentle formula for no irritation. This remover leaves skin feeling perfectly clean and comfy and another bonus for you contact lens wearers, you can use it with your contacts in!
Do you share the same staff pick as one of us? Let us know which products you've tried, love, and look forward to loving!