Six Holiday Beauty Essentials You Need In Your Clutch
Look: life would definitely be a lot easier if we could bring along our favorite full-sized items wherever we went. But, unless you're hauling a huge makeup case, or have a gigantic bag that can store practically anything: compact and effective products can surely save you some space, without cramping your style.
Also coming into handy once those holiday parties come in full swing, pint-sized products can easily save you from any looming beauty disaster, being that their convenient and stashable nature can come in handy whenever you need it.
Ready to find the right products that can go anywhere and everywhere? Here's six beauty essentials sure to help you avoid any holiday beauty disasters.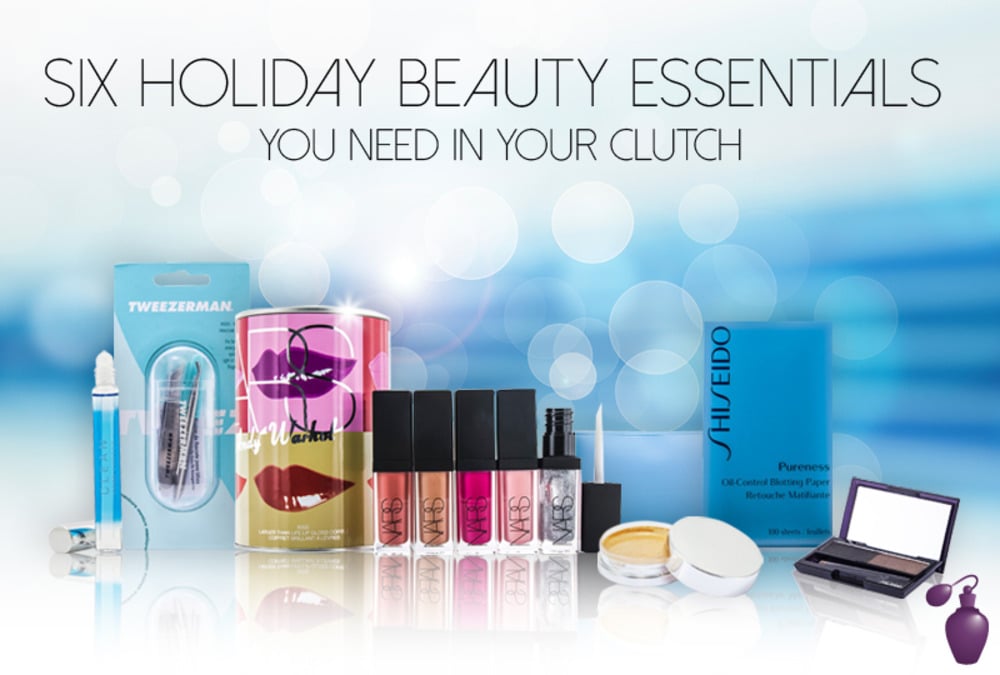 When You Break A Nail...Nothing is worse than splitting or chipping a nail, and not being able to have a helpful file on hand. Thankfully, the Tweezerman Mini Nail Rescue Set ($31.99) comes to the rescue, as this four-piece tool kit offers trimming tools sure to tame split and jagged nails fast.
When You Want To Change Your Color...Between bites and sips, it's really no surprise that lip color can easily fade. But instead of slapping on the same gloss from before, the Nars Andy Warhol Kiss Larger Than Life Lip Gloss Set ($34.99) allows you to change your color, without taking up too much room in your bag.
When Your Foundation Isn't Playing Fair...You may have applied on loads of primer and setting spray, but sometimes, foundations seem to have a mind of their own. If you find your makeup is straying, and are in need a quick boost, the Chantecaille Mini Talc Free Loose Powder Shadow ($69.99) keeps your face matte and oil-free upon application.
When Your Fragrance Fades...Sure, you just applied on some full-sized spray not to long ago, but like makeup, fragrances can fade faster than we'd like them to. To keep your scent going throughout the night, opting for a rollerball fragrance can help keep you smelling fresh and clean. For an instant burst of refreshment, we always have the Clean Warm Cotton Eau De Rollerball ($16.99) inside our bag.
When Your Complexion Is Getting Oily...Great for those with oily complexions, blotting papers are an easy way to touch up your look, without disturbing your makeup. For effective and gentle papers to use, we recommend the Shiseido Pureness Oil-Control Blotting Paper ($22.99), as they keep your foundations and bronzers intact.
When Your Brows Are Looking Scary...While brow powders and pencils work wonders, sometimes facial sweat and oil can contribute to easy brow fade. To keep that strong and sexy arch you love, always pack the Shiseido Eyebrow Styling Compact ($36.99) to touch up brows.