From Runway to Realway: Statement Red Lip
The red lip is a 'super' staple on the runways, but this season, for Spring 2013, makeup artists stepped it up with an even, stronger lip. Many required 4 to 5 steps -(filling in lips with lip liner, layering with lipsticks, sprinkling power pigment on top - so there was this exciting play of texture and color. Because it was paired with luminous skin and a minimalist eye, it didn't look overbearing, but modern.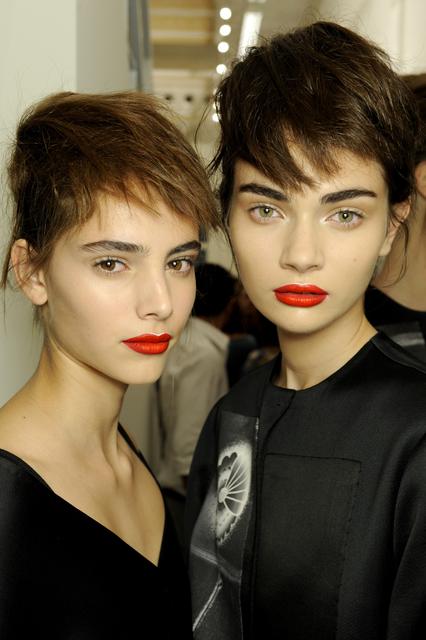 Photo: Prada Spring/Summer 2013, Credit: Beautypress.com
Anna Kim, a beauty editor at Stylesight says, "Red lipstick is the quintessential symbol of womanity, confidence and sophistication.Pink and lip gloss has youthful associations. Now, you see teenagers and twenty year olds wearing red lipstick all the time. I also think, on some subconscious level, it has something to do with separating yourself from reality tv culture (the Kardashians, Real Housewives, etc). These reality show ladies tend to favor a smoky eye with a glossy lip. So the red lip has come to stand even more for ladylike and sophisticated."
Who did it well on the runway? Prada, Jason Wu, Rochas, Loewe