ROCHAS – ROCHAS MAN
Cavities be damned! 1999 ushered in the launch of a new men's fragrance from the house of Rochas which ticked all the masculine gourmand boxes... Rochas Man is a scent that draws women in with its finger-licking ambrosial sweetness.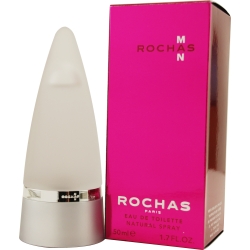 A unique scent for its time, Rochas Man tippy-toes the line between complexity and cookery... it's nectar-like blend of lavender, vanilla and coffee give it a syrupy, saccharine appeal right out of the bottle. An underlying vein of florals – jasmine and lily of the valley – give the fragrance a tenderness and sweetness, but brawnier, animalic facets of musk, sandalwood and ambergris keep it resolutely on the men's side of the line. There is complexity in this scent, and it is that very quality that will urge those around you to investigate further.
Rochas Man can be worn any time of the year, but is deliciously comforting in the cooler months. It projects well, and leaves a fresh, memorable glacee trail behind.