Like a PRO: False Lashes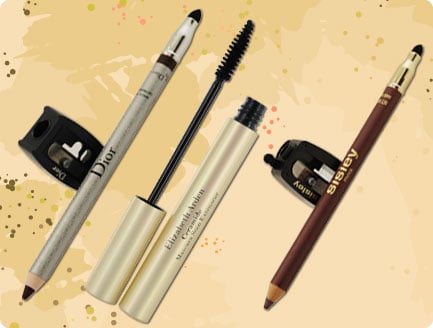 One of the beauty trends that is at it's peak are the fringey, babydoll, false eyelashes. Applying only the false eyelashes doesn't make the trendy, overall look work entirely, unless you do it right. Why ever do anything if you're not going to do it right, right? So since I've become quite a 'pro' at applying false eyelashes, between all the dance competitions in college and the nights out dancing, I'll help you too, rock those fringey lashes and feel totally confident and not one bit ridiculous!
Sure mascara is enough, sometimes, but what about those special occasions when you want your eyes to totally pop? That's the time you should choose to falsify!
So first rule of thumb, get a natural looking pair of falsies when you are first trying these out. Unless it's Halloween, I'd suggest cutting the lashes in half.  I typically do not use the entire lash but cut it in half and only apply it from the middle of my lash line outward to the outercorner of my eye. This kind of gives a cat eye effect but is a very natural, believable way of wearing a false lash.
After you have cut the lash in half, prep your eye lid with a natural matte shadow, (Stila's eyeshadow pan in Twig works great) and then line the lashline with a dark liner, like Sisley's phyto khol perfect eyeliner or Dior Eyeliner Pencil . After you have lined your lashline and prepped your lid with a bit of color, curl your eyelashes and apply a layer of black mascara. 
Here comes the falsies part! Gently squeeze the lash glue onto the lash line, you do not need much, literally line the fake lash line with a sliver of glue. Blow on the glue for about 15-30 seconds. You do not want to apply the glue to your lid while it is still wet, you want it to be tacky, so that it will stick and stay all night! After about 30 seconds, plop that fake lash line as close to your natural lash line as possible. You can use a tweezer to get the lines to be as perfect as possible. Let the lash set and do the next eye. After both lashes have been applied, use your mascara again, Elizabeth Arden ceramide lash extending treatment mascara works like a charm! This will help make the lashes look even more natural, combing your natural lashes with the fake lashes. 
See? Applying lashes doesn't call for just fake lashes. You really need a great eyeliner, eyelash curler and mascara for an all out, amazing, 'eye-catchin' look!
Let me know if you plan to try this and how it turns out!