Prettily Packaged
They say don't judge a book by its cover, right, but unfortunately in the fragrance industry, packaging could make it or break it. Well, that isn't totally true, but it sure is for some people. How many perfumes or colognes have you bought because it comes in a 'cool' bottle and luckily enjoy the fragrance too? 
There are simple, classy bottles, and some very intricate and exquisite bottles. We handpicked 3 of our favorite prettily packaged fragrances that are almost good enough to not even wrap, if you were giving them as a gift!
Check out these 3 and don't forget to let us know what perfume is your favorite 'prettily packaged'!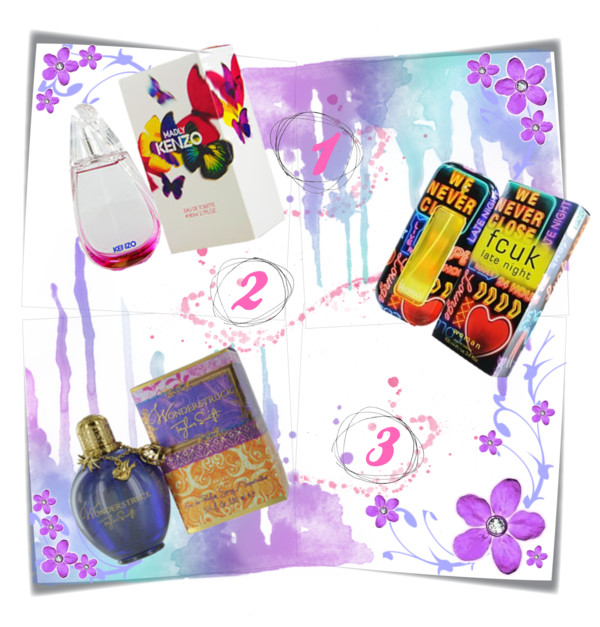 1. Madly Kenzo! eau de toilette for women is a fruity, white floral, fresh, tropical scent with notes of pear, litchi, jasmine, heliotrope, musk and cedar. It's lovely, it's sweet, and in one word, can be described in the same way as the beautiful packaging...gorgeous!
2. Another floral, fruity fragrance for women, FCUK Late Night for her features notes of bergamot, pink grapefruit, fruits, rose, freesia, jasmine, musk, cedar and vanilla.
3. A charming fragrance named after Taylor Swifts hit song "Enchanted", "I'm wonderstruck, blushing all the way home" is the perfect way to make a first impression. Wonderstruck, a fragrance that is a floral, fruity one with wooden undertones. It includes tones of raspberry, dewberry, green tea, freesia, and apple blossom. The heart features sweet vanilla, honeysuckle and white hibiscus, as well as golden amber, musk, sandalwood and peach in the base.