Party Perfect Perfumes
How to be the life of the party, besides your amazing outift and personality? Leaving a lasting impression with a well chosen perfume! Remember, fragrance is an accessory too, so be sure to match your scent well with the look you plan for the night! Take a look at our top party fragrances to get things going.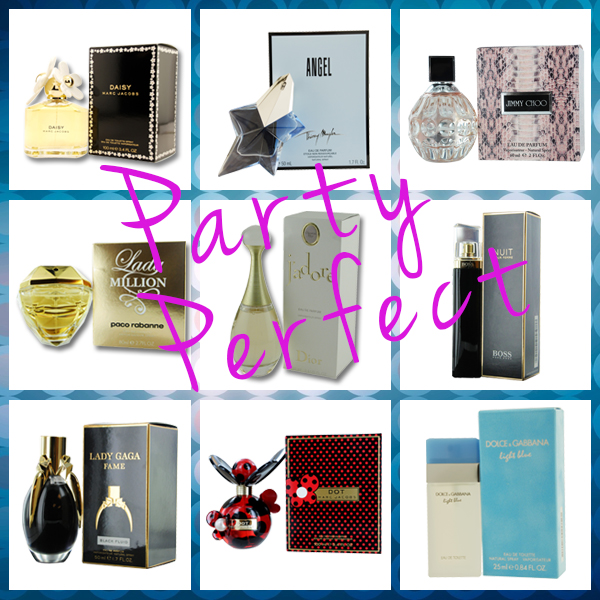 (From top to bottom, left to right: Marc Jacob's Daisy, Angel by Thierry Mugler, Jimmy Choo perfume, Lady Million by Paco Rabanne, J'adore by Christian Dior, Nuit Pour Femme by Hugo Boss, Lady Gaga's Fame, Marc Jacob's Dot, and Dolce & Gabbana Light Blue.)

Marc Jacob's Daisy is a scent that is sunny and pure spirited, perfect for a care free, flirty girl. Notes include strawberry, violet, and white wood accords.
Theirry Mugler's first fragrance, and one of our personal faves, Angel, is a gorgeous oriental gourmand scent with a hint of bergamot and helional. If you're that glamour girl that wants to get noticed, try a spritz of this all-out glam scent ASAP!
Fashionable and fun, Jimmy Choo's first perfume is fun, warm, rich, and good enough for the confident, intelligent, fashionista type of girl! Snag a bit of this fragrance with fruity chypre and woody depths.
Feel like a million in Paco Rabanne's Lady Million perfume, a scent that is sure to please the noses of those who suround you. Lady Million includes notes of raspberry, orange flower, white honey, lemon, neroli, and jasmine. Ideal for any type of night, this mature scent will be sure to last through any situation.
Femme fatale types, embrace your feminine side with J'Adore by Christian Dior. This beautiful blend of floral orchids, violets, roses and blackberry musk create a sensual aroma that will bring the heat...in a good way! Spray a bit into the creases of your arms before you leave for a luscious scent that will last all day and night. 
The equivalent to the 'little black dress' of fragrances, Nuit pour femme is chic, sensual, and super feminine. Mix it up with notes of jasmine, peach and sandalwood with Nuit Pour Femme by Hugo Boss.
Be the center of attention when you let everyone know you're wearing the first black perfume that sprays on clear...the fierce fragrance, FAME, of Lady Gaga is the only one that can manage. Notes include atropa belladonna, incense, honey, saffron, apricot, and tiger orchid.
Marc Jacob's Dot is a fragrance for the young and lively, capturing a charming, upbeat spirit. Dot carries a lush, floral scent perfect for every eclectic, spontaneous female.  Would you try it? Notes include jasmine, coconut water, orange blossom, creamy vanilla, driftwood, and sensual musk.
Light and fresh, set the mood with Dolce and Gabbana's Light Blue, a light floral fragrance with a combination of fruity notes, including apples, bluebells, jasmine, bamboo and white rose. It's fun, it's light, and fresh...what type of night will you set with this scent?