PACO RABANNE – ULTRAVIOLET MAN
Francesco 'Paco' Rabaneda Cuervo is perhaps more widely recognised as Paco Rabanne... a Spanish designer who forged his career and made a name for himself working with some of the world's most revered fashion houses. With a vast portfolio of perfumes to his credit, Paco Rabanne launched Ultraviolet Man in 1999, and its unique packaging and violet-coloured elixir succeeded in turning heads.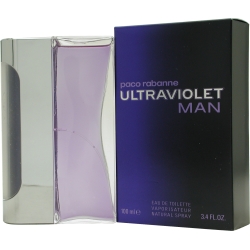 Presented in a bottle reminiscent of a hand-held lightsource, Ultraviolet Man embraces the "new-millennium" aesthetic... its purple liquid evocative of the unseen part of the light spectrum. It opens with a herbaceous blast of mint and coriander... these facets blaze over black pepper and ambergris to add depth and complexity. Finally, the whole composition rests on a plinth of patchouli and moss. It is a unique and uncommon composition, one perhaps best suited to a young man (or one young at heart) who enjoys something contra to the norm.
Ultraviolet Man works best any time of the year, and is suitable for daytime or nighttime wear.