PACO RABANNE – PACO RABANNE FOR MEN
An olfactory hangover from the 70s that just wont go away! Paco Rabanne for men is a classic perfume pillar that has withstood the test of time – a gruff masculine fragrance that speaks volumes about the decade it was made in. In an era of free love and all things 'groovy', this scent captures a vivid snapshot of its time.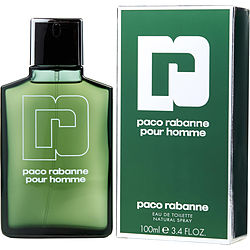 An aromatic fougere, Paco Rabanne is the sort of scent that will instantly put hairs on your chest! A herbaceous explosion of rosemary, sage and Brazilian rosewood meet the nose when first applied, which simmers over a heart of lavender, geranium and tonka. A robust masculine base of musks, amber and mosses anchors this scent to skin for the best part of an entire day! With sour / bitter nuances, this is no airy-fairy aquatic... adjectives such as "fresh" and "clean" are not even in the same universe!
One might wear Paco Rabanne as one would a full beard. It is devoutly masculine, bold and conspicuous... it takes a special guy to be a Paco Rabanne man.