November Must Haves: 5 Products to Purchase Now
Stop what you're doing and get psyched for 5 products you are about to want (and own) now! These 5 products are our must haves and are products we know you'll add to your cart and purchase now.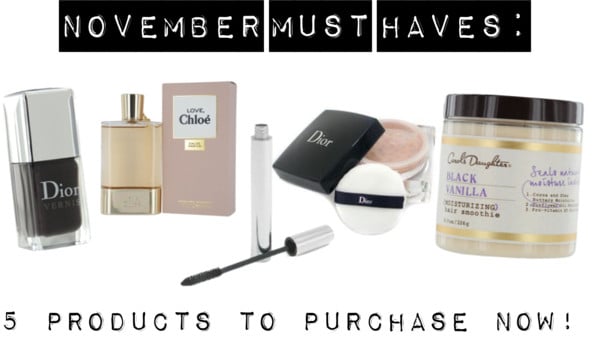 Must Have Product #1: Dior's Vernis nail lacquer
WHY You'll Want It NOW: This nail polish is vibrant, long lasting, and luminous in color. What better way to paint on silky smooth, long lasting, glossy nail lacquer than to do it with our discounted Dior Vernis nail lacquer?
Must Have Product #2: Chloe Love by Chloe
WHY You'll Want It NOW: A fragrance that is romantic and feminine that combines the floral notes of iris, lilac, hyacinth and wisteria blossom with powdery musk for a scent that will last all night long. If you have a taste for elegance and luxury, you will love Chloe Love.
Must Have Product #3: Clinique Naturally Glossy Mascara in jet black
WHY You'll Want It NOW: You'll get great looking lashes that are visibly longer and thicker. This mascara instantly create a striking, beautiful glossy lash. 
Must Have Product #4: Christian Dior's DiorSkin Matte & Luminous Hydrating Loose Powder
WHY You'll Want It NOW: It's modern, gives matte and a satin soft finish, all while replenishing moisture to keep skin hydrated for more than 6 hours. If that's not enough, the delicate texture perfectly adheres to skin and leaves a fresh, radiant complexion.

Must Have Product #5: Carol's Daughter's Black Vanilla Hair Smoothie
WHY You'll Want It NOW: A yummy treatment that deeply nourishes hair that is dry and dull, the sunflower oil, cocoa and shea butters promise to deliver intense moisture and detangle the worst strangled of hair.What are you waiting for? Go ahead and take a big gulp out of this delicious smelling, moisturizing hair smoothie!