Nail Trend: Half Moon Mani
This nail trend, I just had to try, and yesterday, I finally made it out to find reinforcements, the most important factor for this nail look. I am in love with the fact that something I used to use in my 4th grade 1" binder for class is an essential "tool" in my nail beauty regimen…well at least for this trend look.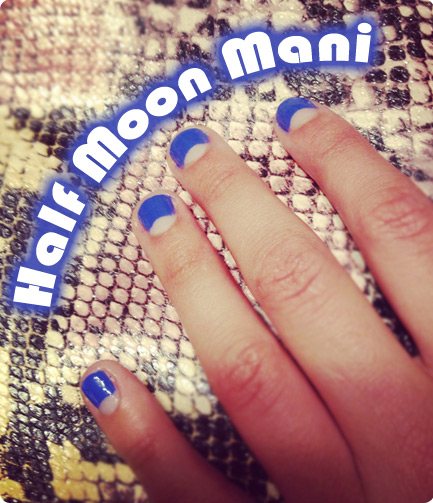 This may be the easiest look you will ever paint and it looks pretty awesome too! Do it yourself (DIY) and see how easy it really is!
First, what you'll need
- -Reinforcements (5-10)
- -Nail polish (any color your heart desires + top coat)
To begin, I am all about being efficient, so rather than using 10 reinforcements for my 10 fingers, I decided to cut the circular stickers in half. I then placed the sticker on the bottom of my nail, leaving a small space for natural nail color to show thru. ((If you'd like to apply a color as a base, go ahead and have fun with it. For this look, I wanted a more natural feel, so I didn't paint a different color as the base coat.)) After you have applied the reinforcements to the bottom or your nails, paint your nails like you would normally. I used an indigo blue, try Christian Dior's Vernis Blue Denim Nail Lacquer, you'll love it, plus you'll be hitting two nail trends at one time! (half moon mani + blue polish—look at you!) Once you have painted your nails like you would normally, peel off the reinforcement. NOTE: It is important that you do not peel it towards your nail or with your nail but AWAY from your nail and towards your body. This is because you want a clean break from the sticker, your nail, and the polish.
Love the look? Keep it long lasting and apply a clear top coat. Voila, there you have it! Share this trend with all of your friends and show us your pics once you try it!