Nail Trend Gets Served: Caviar Polish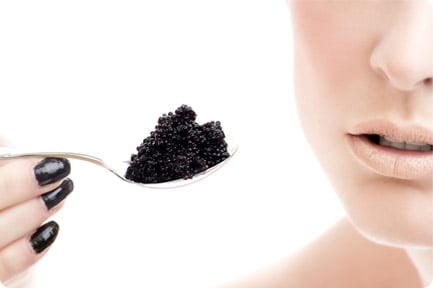 Talk about bizarre beauty! Have you seen the latest, and possibly, the greatest nail trend...the caviar manicure? Yep, that's right, caviar is not just for eating anymore, it now has a look alike nail polish trend! Ciaté has created kits that come in rainbow, black and white, and retailers are starting to get these in...in hopes to sell out!
In reality, all the 'caviar' is are tiny microbeads and with it, a nail polish for application first. So, technically, rather than waiting for these kits to come out, how about a little doin' it ourselves? 
All you'll need are two items, the first a quality nail polish, like Dior Vernis nail lacquer or an OPI polish. The second item would be your caviar aka microbeads. You can head to any craft store for those and get as many or as little colors as you want! You can mix, match, combine, and oh hey, how about doing an ombre caviar nail? How hot would that be?
Moving on...polish your nails as you normally would, with a base coat and a first coat. Onto the second coat, apply the polish thickly and pour the microbeads over your nails. Do this for all your nails and lightly pat the beads on each nail to safely 'secure' them, for a longer lasting mani.
Don't want to do all your nails, just do your ring fingers and create an accent nail! It's a gorgeous look! Will you try it?If you do, post a pic of it on our Facebook profile or TwitPic it to us @FragranceNet