My Philosophy...Lip Gloss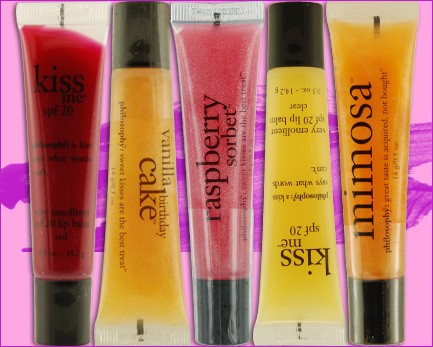 So I have this philosophy...lip gloss that is ah-mazing! When I say ah-mazing, I mean it. This gloss is probably the BEST tasting gloss I've ever had on my lips, and not only does it taste awesome, but the shine factor and tint of color are just perfect!
I'm an addict with lip glosses; yes I said it, I'm addicted to lip glosses, so sue me. I probably have about 20 different glosses in my bag as we speak, and that does me NO justice of what's in my 3 make up bags at home PLUS the cosmetics bag I have hanging in my closet. 
So now that I've told you my lip gloss addiction, I think you will become one too if you try this gloss for yourself, and being a lip gloss addict is not a bad thing. Personally, my fave is vanilla birthday cake because I LOVE love love birthday cake flavor anything. Birthday cake ice cream, birthday cake cupcakes, birthday cake pancakes, birthday cake you name it, I LOVE it, including philosophy's vanilla birthday cake gloss.
If birthday cake is just not your thing, well maybe mimosa or melon daiquiri is? They have some pretty awesome flavors and colors, rasperry sorbet anyone? And what's really great is I order these ALL the time from...well you guess, FragranceNet.com! Order yourself a beauty treat, we have flavors like cinnamon bun (YUM!), cocount frosting, rasperry sorbet, and my fave...vanilla birthday cake. So pucker up and enjoy!