Mouthwatering Scents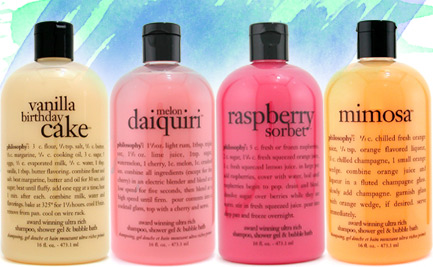 Talk about mouthwatering, scrumptious scents that leave you with a feel good all over feeling. Philosophy's award winning, ultra rich, shower gel and bubble bath product is, in one word, amazing. We posted a pic on Facebook last week with a caption asking what our fans favorite flavor was. BOY, did the crowd go wild. Over 500 Likes, over 50 comments and, 43 shares, we think you think this product is amazing too!
These products come in a range of delectable flavors, including vanilla birthday cake, melon daiquiri, raspberry sorbet, and mimosa. These multi-function cleansers are for body and hair and can be used as shampoo, body wash, and for a bubble bath!
What we really love about them, besides the scent of course? The rich foaming lather, leaving hair, skin, and everything all over feeling soft and silky smooth.
So which is your favorite?