May Must Haves
May, May, May...I seriously love May. May is a month where I feel like the best of things happen, like way back when, when I had prom, then high school and college graduations, and who can hate Memorial Day weekend? May is also the start of summer, that alone makes May a love-able month, but along with the love of the May month, I'm going to give a short rant on my May Must Haves and I bet...you'll just have to have them too!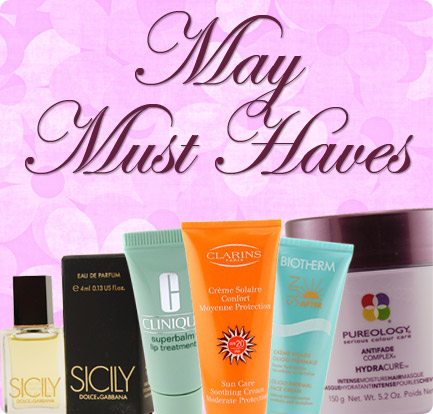 Numero uno, hands down, goes to Sicily perfume by Dolce and Gabbana. This scent smells like a rich bouquet of flowers, a very romantic scent. It's warm, spicy and not too heavy, just how I like it and honestly,  the fact that it's a hard to find scent and not many people wear it makes it one of my must haves, because who wants to smell like everyone else?
Next on the list is BioTherm's After Sun Oligo Thermal Face cream and Clarins Sun Care Cream in Moderate Protection SPF 20. If you don't already know, May is Melanoma Awareness Month and with this sun protection and soothing and hydrating cream for after sun exposure, these products are a definite, definite must have.  With the After Sun face cream, I can feel the intense moisture and hydration melt into my skin after application. It's great if you want soft, supple, radiant skin…and I can't imagine anyone who wouldn't want that in the month of May.
On to the next one, Clinique's Superbalm Lip treatment. If you recall, I have a serious lip gloss obsession and May is no exception for me to purchase yet another lip product. This treatment hydrates your lips to make them feel soft, smooth, supple and firm and prevents dryness and flakiness which sinfully occurs if you don't apply a great lip balm like this one in the summer months.
Last but not least, completely and utterly obsessed with Pureology's hydracure intense moisture masque. This cream not only smells great but really preps your hair for the summer heat. Don't forget your hair needs protection too, so protect and treat with an intense moisture masque, like Pureology's, which is my last and final May Must Have!
What are some of your May Must have items?