LPTP Walking on Sunshine Shampoo
Hey eco-babes, feel like you're starting to lose your shine? No we, don't mean on the pickett line. We're talking about your locks.
With a little help from Love, Peace & The Planet's Walking on Sunshine Daily Shine Shampoo you can save your shine, while saving the planet. The LPTP line of eco-awesome hair products allow you to make another small change that makes a big difference, not only in how you look but in how you live.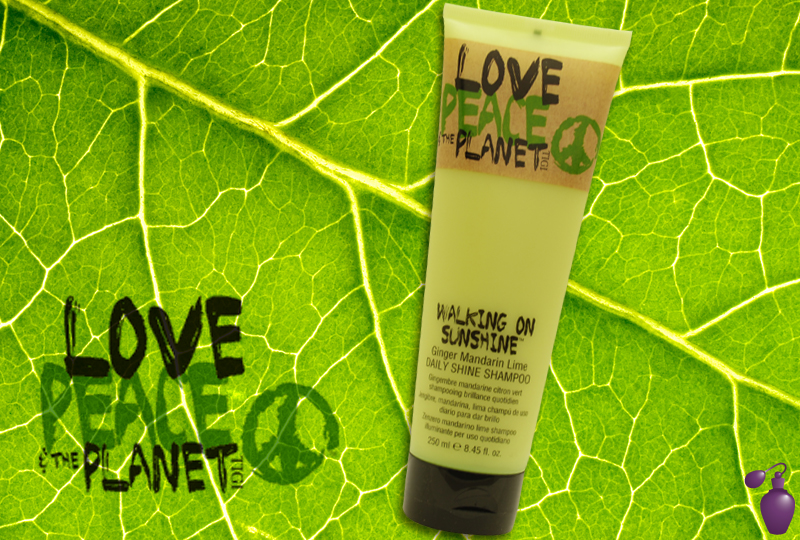 Walking on Sunshine utilizes natural and organic ingredients -- we're talking honey, and ginger, mandarin, lime, and jojoba oils -- combined with a minimal amount of synthetics, but absolutely no parabens, artificial colors, synthetic fragrances, sodium lauryl/laureth sulfates.
Simply shampoo your hair as you regularly would; yes, if you shampoo daily go right on (after all daily is in the product name) and let the ingredients do what they do.
Ingredient Check:
Titanium D, Aloe Barbadensis Lea, Water (Aqua), Sodium C14-16 Olefin, Cocoamidopropyl Beta, Acrylates Copolymer, Fragrance, PEG-18 Glyceryl Olea, Cocoate, Glycerin, Glycol Distearate, Sodium Cocoyl Apple , Camellia Sinensis Le, Zingiber Officinale , Glycyrrhiza Glabra R, Decyl Glycoside, Simmondsia Chinensis, Prunus Amygdalus Dul, Aminomethyl Propanol, Iodopropynyl Butylca, Methylisothiazolinon, Limonene, Linalool, Mica
All Natural Skin Benefits:
Honey's high sugar content actually helps hair retain moisture, in turn revitalizing dry, damaged hair. Not to mention, this sweet ingredient boasts antibacterial properties that reduce instances of oil buildup along the scalp.
Ginger oil, when mixed with essential oils such as jojoba and massaged into the scalp, can improve circulation to the hair follicles possibly increasing the rate of hair growth.
Mandarins oil is rich in antioxidants and vitamins E and B12, which are key in replenishing moisture, shine, and bounce.
Lime oil contains flavonoids and antioxidants that help protect the hair's shine by neutralizing free radicals found in UV rays and clouds of pollution. These free radicals can potentially weaken the cuticle, the hair's protective outer layer.
Jojoba oil is not only fills cracks in the cuticle, strengthening the hair shaft, but due to its molecular structure, which is very similar to the oil the scalp naturally produces, jojoba oil can also penetrate the hair follicle and strengthen the internal structure of the hair shaft!
Why we Love it!:
Aside from the shine and organic ingredients? Well, there's the packaging. Made from 50% recycled material, honestly, how can you not be inspired to lather up.
Oh, and there's also the fresh-fruity fragrance which will certainly give your eco-game a motivating boost!