Line We LOVE: MOP haircare
Oh goodie! A complete line of natural organic products, with simple, natural quality ingredients, we've never felt so good about using a haircare product that is so conscious of the environment! This new line we carry, MOP haircare, is one we can't get enough of...from the shampoo to conditioner and it's styling products galore, your hair will be glistening and gleaming and be oh-so-beautiful. Check out the product line and what this hair care line is all about!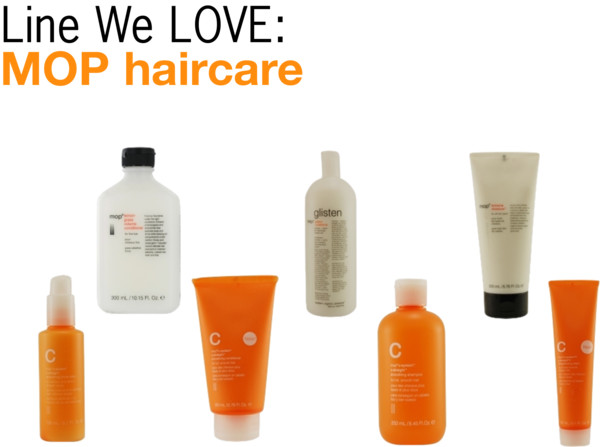 (From left to right: C System C-Straight Smoothing Shine lotion, Lemon grass conditioner for fine hair, C Sytem C-Straight smoothing conditioner, Glisten Conditioner volume and shine for treated hair, C System C-Straight smoothing shampoo, Extreme Moisture for all hair types, and C System C-Straight straightening cream.)
Start with the C System C-Straight smoothing shampoo for full, smooth hair. This mild shampoo with antioxidants and citrus extracts helps preserve color and promotes healthy looking locks.


With a line full of conditioning products, there is one sure to be for your hair type. Try the C system C-straight smoothing conditioner to eliminate tangles and deliver a visibly smooth texture you can run your fingers through. An added bonus? It provides an exceptional lift and added volume for styling. It's antioxidants and citrus extract helps also, to preserve color and promote healthy-looking locks, now who doesn't want that?!

You can also try Extreme Moisture for all hair types or Glisten conditioner volume and shine for treated hair. Have fine hair? That's what the lemon grass conditioner is for! Fine hair flourishes under the right conditions. Extracts of lemongrass and chamomile help promote body and shine while keeping oil and pollutants under control. Honey and wheat germ "naturally" nourish delicate hair and work to maintain elasticity, now honey, how does that sound?! LOVE IT!
Let's not forget the styling products, how could we?! How about some C System C-Straight smoothing shine lotion, an anti-frizz lotion that smoothes and protects your new sleek style. This final touch in the C-Straight system helps achieve weightless texture and reflective shine.
And now, the straightening cream, a superior styling cream that smoothes and straightens curly and wavy hair while adding a healthy shine. It's a light anti-humectant that controls frizz throughout the day without adding weight to your smooth style. 
So are you ready to try and see for yourself what all the fuss is about with MOP haircare? Try it out for less than retail, enjoy shopping!