LALIQUE – PERLES DE LALIQUE
Bestowed with a 'best-perfume' award by Marie Claire in 2007 just months after its release, Perles de Lalique is an intoxicating feminine fragrance in the floral chypre category. Presented in a square-shouldered frosted glass flacon, Perles de Lalique speaks of understated elegance and refinement.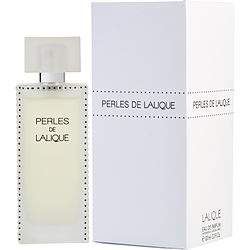 Straight out of the bottle, this fragrance has a profusion of individual facets, all seamlessly blended to create a luminous, vibrant perfume... a sprinkling of pepper gives it a buzzing blush of fiery warmth, and a good measure of vetiver and iris; a softer, earthy nuance. It also has abundant patchouli, but one that veers away from 'head shop' connotations, and which is supported by a huff of delicate Bulgarian rose. Its curious yet unique arrangement of accords at times even suggests a note of icy limoncello, despite the absence of any distinctive citrus accords to speak of. The expected mossy chypre notes in the base have been hushed somehow... Perles de Lalique is understated and straight-laced; but revealing incredible tenacity she will linger for many, many hours.
A special scent that will bewitch and rouse curiosity. Its versatility can see it worn day or night at any time of year.
Here's a tip! Try it on your man's skin too, to experience a completely different fragrance altogether.