HERMES – EAU DE NARCISSE BLEU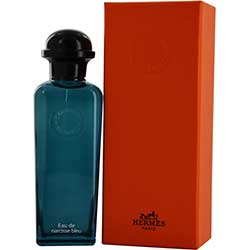 Last year another striking scent created by Jean-Claude Ellena for Hermes,Eau de Narcisse Bleu took its place in the unisex "eaux de cologne" series, which holds 5 fragrances to date. This selection of eaux are formulated at a lower perfume concentration and are thus intended to be worn generously, making them perfect to apply anywhere, any time.
Eau de Narcisse Bleu – just as the name suggests - is an ode to the narcissus flower. If you can imagine walking through a green glade in the first days of spring... the ground is still damp and winter's cold is still hanging in the air. As the warm sun attempts to push through the grey mantle above, you find yourself surrounded by blooming narcissus flowers as their blossoms release their tender perfume on the air. Eau de Narcisse Bleu captures this olfactory snapshot in time... it is a curious balance of wet and dry, cold and hot. The perfume is composed of narcissus, galbanum, orange blossom and precious woods, the sum of which feels devoutly genderless.
As with all the Hermes eaux de colognes, this perfume is somewhat fleeting, but for those glorious minutes as the scent dances on skin, there is nothing better in this world! Eau de Narcisse Bleu can be appreciated by by men and women as a refreshing signature tonic summer or winter, day or night. Versatile and memorable, this scent is a beauty!