Get The Look: Bold Brows
For a few years now, bold brows have taken over red carpets as the hottest beauty trend out there. Gone are the days where red lips and black nails steal the spotlight, now starlets like Megan Fox, Sofia Vergara and Emma Watson are all about the brow. Needless to say, we were dying to try neat, clean but bold brows ourselves, and found that these tips helped: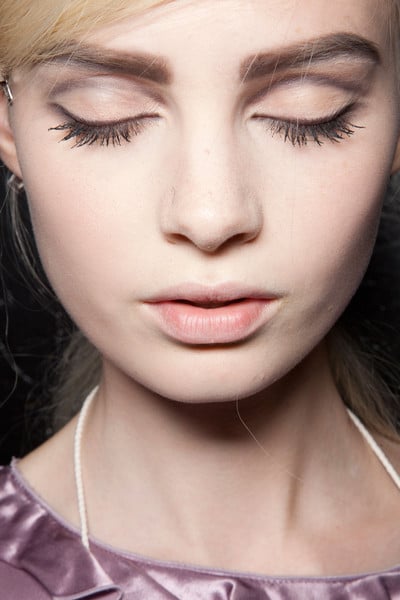 (Spring 2013 - Source: ImaxTree)
Grow 'Em Out
The first step to bold brows is growing them out. Try to avoid plucking during this time. Naturally, you'll come across some messy stragglers along the way. Instead of eliminating them, brush them out with a brow brush like the Youngblood Luxurious Brow/Lash Brush, and smooth over with a little brow gel like the Laura Mercier Eye Brow Gel, to get a clean look.
Follow Your Natural Curve
The best thing about bold brows is that in the end, they're big and neat. Once your hair has grown out, you can neaten up the look by following your natural shape.
There's no need to obliterate your hairs into one thin pencil line; the point is to appreciate the size. Just clean them up and avoid a uni-brow!
We really like Tweezerman Mini Slant Tweezer to do the job. This tool has a really sturdy grip making plucking easy and quick. Follow your brow bone when cleaning up and make sure the highest arch is right above your pupil for a refreshed look.
Learn to Love Powder
Eyebrow pencils are a little outdated, and we recommend leaving them in the '80s where they came from. The big thing now is to color with powder, as that creates a natural, feathered look. Though you can purchase powder specifically for the brows, a traditional eye shadow will do the job, too.
Select a color that is slightly lighter than your natural color—Burberry has a really nice selection of natural-looking brown shadows—and brush the color onto your brows. Make sure you're dusting it on your hair, not on the skin; otherwise it will look sharp and unnatural. Fill them in lightly so there are no gaps, and voila! Bold brows.