Get It: The Perfect Red Lip
One morning in the office, our Creative Director Carole and I were chit chatting about some of the latest beauty trends and looking at some pictures of the beauties on the red carpet at the Met Gala. She was wondering how to get that perfect red lip that they (we mean their makeup artists) do oh-so-well and that's when I went off on my DIY tutorial rant. She said, "THAT ...you need to do an Eau Talk blog post about that." So here I am, doing just that.
They say not everyone can pull of a red lip but puh-lease, "they" are not always right. ANYONE can pull off the perfectly red lipped pout, it just takes more patience finding the right red for your skin tone than anything else.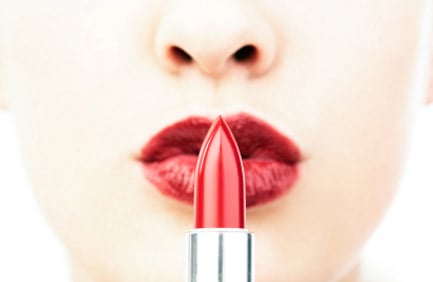 There are different types of reds, with different hues (undertones) that go well with different types of skin tones. For example, a bluish red lipstick with a cool undertone like Christian Dior's High Impact Weightless lipcolor in Technicolor red looks great on most women who have fair skin. Then there are the reds with a more warm tone, a more orange based color, that look amazing on women with darker skin tones. When looking for that perfect  lipstick, don't try it out on the back of your hand like we all know we do…but on your fingertip. Believe it or not, this is the closest to your natural lip color, so try this instead. After you've found your perfect lip hue, now the application process.
First, you want to make sure that you are applying your lip wear on an exfoliated and moisturized lip. Once your lips are softened and moisturized, apply a red lip liner, starting from the center of your lips out. You do not want to draw on lips to make it appear as if your lips are larger; this is a very tricky, freaky thing to do with red lip liner, so skip that part and just work your way out from in. Once you have fully lined your lip with the red liner (which will also extend the wear of your lip color), apply the lip color lightly, starting from the center of your lip outward. Dab your lips with a tissue for a matte look and also seal in the color. This will help to "stain" your lip and let the color fully sink in, for a long lasting look. Don't want a matte look, apply some sheen gloss to your lip, but just be careful to not glop on too much gloss and create an uneven lip colored look.
Want to know what products to use to get this lovely look?
Have fair skin, try this bluish tone red lipstick, Christian Dior's High Impact Weightless lipcolor in Technicolor red
Have darker skin, try this orange toned red lipstick by Joey New York, He's Into You Red Hot lipstick
Don't forget that lip liner! Try Bourjois douceur des levres glossy effect lip pencil in Rose Exotique or Bobbi Brown's lip liner in Soft Rose
Let us know if you love the red color for your lips and how do you pull off the pop of color lip look?