Fragrance Review: ETRO - MUSK
Founded in 1968, Etro is a family-run Italian accessories manufacturer, perhaps best known for their enchanting and decorative paisley-printed shawls. Their line of leather goods, fabrics and scarves have been paired with an array of fine fragrances that reach back to the 1980s. Musk is a scent that sounds simple, but is actually a whole lot more than it says on the box!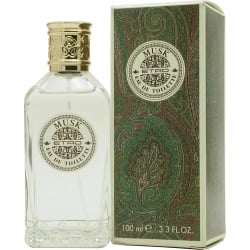 A citrus woody musk fragrance for both men and women, Etro's Musk delicately dances between the genders with its universal amalgamation of citrus, verbena and precious woods. A shimmering, zesty opening gives rise to a warmer nucleus of sandalwood, guaiac wood and cedar... it feels cozy and informal. A soft whisper of rose and lily-of-the-valley lends a blush of softness to the mix, and the sum of these accords is steeped in a starring facet of musk. It feels both clean and sensual in equal measures. It dries down to a soft and comforting powdery vibe, and a feeling as though you've been dusted with a paper-thin mantle of perfumed powder.
Musk sits close to the skin, but is uplifting and non-complicated. A great go-to scent during the day; this perfume feels even more unruly and playful at night!