Fragrance Review SARAH JESSICA PARKER - LOVELY
Whilst veteran actors and public personalities have loaned their faces to promote perfume for decades, the early noughties really saw an upswing in the launch celebuscents! Playing off the back of the hit TV series 'Sex and the City', siren of the small and silver screen Sarah Jessica Parker jumped on board with her own line of perfumes, the first of which was 'Lovely' released in 2005.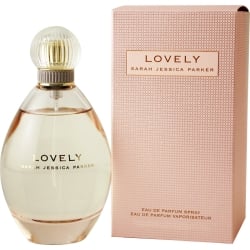 Winner of a prestigious FiFi Award the following year, Lovely achieved widespread appeal on both sides of the Atlantic. With more than a passing similarity to Narciso Rodriguez 'For Her', Lovely is a study in florals, woods and musks that dances across the receptors with sensuous feminine swagger. Akin to rubbing a wide silk ribbon across the back of one's neck, Lovely enchants with a 'white hot' sensation where animalic musks meet the daintiness of citrus and lavender. Moments later, it's focus shifts to a more complex heart of orchid, pepper and patchouli. Surprisingly, Lovely still remains transparent and airy, despite its warm, humming foundation of fragrant woods, white amber and musk.
Elegance and prettiness incarnate, Lovely is still every bit as classy, stylish and fashion forward as it ever was. A great, multi-faceted scent appropriate for both daytime or date night.