Five Biggest Beauty Myths Debunked
We all have an old wive's tale or two that we totally swear by, but sometimes those age-old beauty tips and tricks aren't as beneficial as we'd like them to be.
Take pore shrinking for example, while there's an idea you can actually use anything from cold water to creams to reduce pore size, the truth is that once you hit adulthood, it's pretty impossible to keep your pores from looking almost microscopic.
So, are all classic beauty tips worth buying into? The answer can be a bit tricky, depending on you talk to. But before you go slapping Preparation H on your skin (please don't), we've debunked some of the biggest beauty myths you really should probably pass on.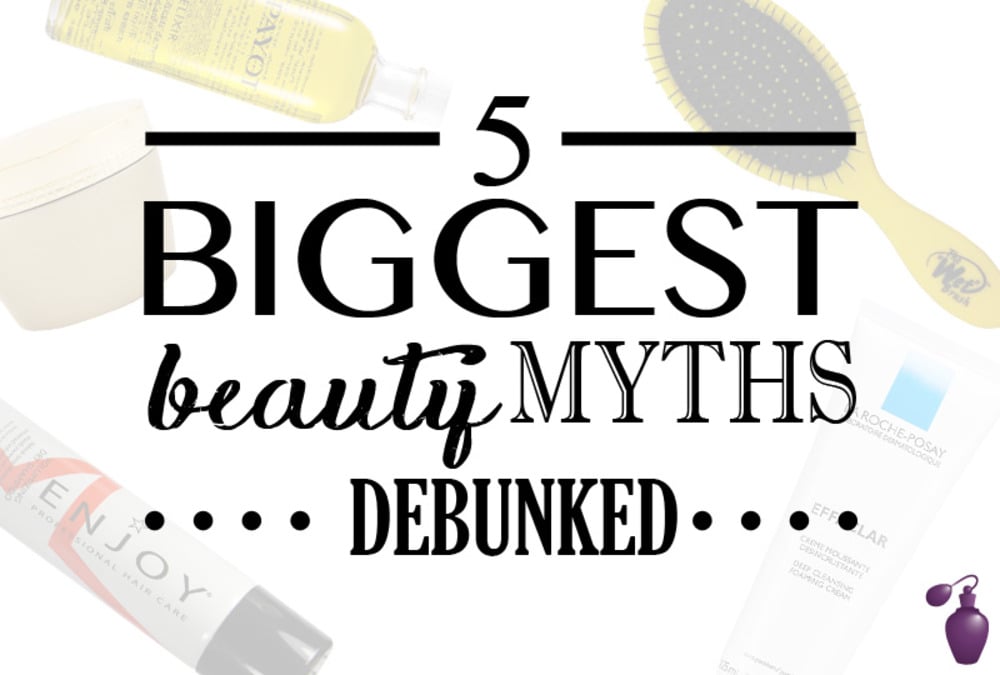 Myth One: Facial Oils Make You Break Out More
While some tend to think oils can leave your skin full of zits and breakouts, the truth proves to be exactly the opposite. When applied on correctly, facial oils can be quite beneficial to dry and dehydrated skin, so feel free to layer them under your creams and moisturizers for a full burst of moisture.
For an hydrating oil that doesn't leave skin with a greasy residue, we recommend the Payot Le Corps Elixir Oil With Myrrh & Amyris Extracts ($67.99), as it keeps your complexion supple and smooth.
Myth Two: You Should Apply Toothpaste To Your Zits
When you were a teenager you've probably tried this head-scratching hack right before any school formal. But now that you're probably way into adulthood, this cringeworthy trick only makes your pimples and zits look even worse.
Toothpaste can temporarily reduce the appearance of flaring breakouts, but active ingredients inside your go-to dental products can irritate the skin, making acne look even more horrendous.
For a much safer solution that actually works, try using acne spot treatments like the La Roche Posay Effaclar Duo Dual Action Acne Treatment ($43.99), as it contains ingredients like benzoyl peroxide, which works to clear embarrassing breakouts.
Myth Three: You Should Shampoo Every Day
Considering all the damage we do to our tresses, it's always best to them a break every so often. So, while some women swear by washing their hair everyday, others (think color-treated, chemically processed types) can really benefit from skipping out on washes, every so amount of days.
But if your hair becomes unbearably oily in between shampoos, a dry shampoo product can really help your hair from becoming a gross greasy mess. For a dry shampoo that can keep your locks looking on point, the Enjoy Volumizing Dry Shampoo ($12.74) keeps oil under control, while leaving your hair oh-so-voluminous.
Myth Four: You Should Brush Your Hair 100 Times A Day
Remember trying this one out in high school? Sure grandma recommended this whenever she had a chance, but truth is, 100 brush strokes a day can cause breakage and more hair loss than you'll really want to deal with.
While we won't deny that brushing is key to a healthy scalp, you'll definitely want to keep your strokes to a reasonable amount.
Using a tangle-free brush like the J&D Beauty The Wet Brush Yellow ($8.99), try brushing your hair a good ten to fifteen times. This should help detangle your hair, without the unwanted damage.
Myth Five: You Don't Have To Wear Sunscreen When It's Cloudy
This one's really a no brainer, especially after new sunscreen rules recommend you applying on SPF products, even when it's overcast outside.
So, while we needn't lecture you on just how important sunscreen is, we will let you know that getting your recommended amount of SPF protection is now a lot easier, thanks to SPF-filled creams and moisturizers.
For effective moisturization and protection against the sun's harmful UVA/UVB rays, the Elizabeth Arden Ceramide Premiere Intense Moisture And Renewal Activation Cream SPF 30 ($64.49) is one beauty essential your skin will truly thank you for.