Fan loyalty runs deep when it comes to celebrity products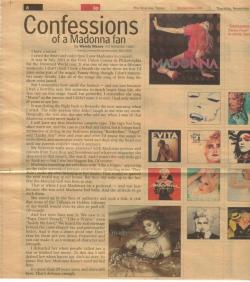 I just read in the news today that Madonna is close to signing an agreement with Coty to launch her first fragrance.
I will confess. I love Madonna. I'm sure that shows my age, but that's OK.
Madonna was a strong presence from adolescence through college, and beyond. I even wrote an article about Madonna in the local newspaper a few years ago (pictured here).
It wasn't her singing -- we all know she's not the greatest singer on the planet -- but her bold courage that drew most of us young girls to her. She certainly paved the way for women performers. Even Lady GaGa has said was inspired by Madonna.

Will I buy her new fragrance? Probably. Even if I don't like how it smells on me.
I guess it's about loyalty. Or nostalgia. Or a little of both.