Everything You Need to Know about: Sisley's All Day All Year
Well, another season has come and is almost gone. And if you're a beauty maven, the change in weather typically means it's time to switch up your skin care routine – such a pain. That's where French skin care and makeup distributors Sisley comes in to save the day; and your wallet. Here is everything you need to know about Sisley's All Day All Year.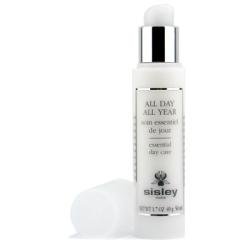 More than just a moisturizer, All Day All Year works to protect from outside aggressors that contribute to dull, aging skin. Inside of All Day All Year, there is a slew of goodness – Shea butter, juniper, hazelnut, olive, sage, white willow, sesame, and more - that will work for your skin spring, summer, winter, and fall. According to Sisley, the miracle formula shields with three levels of defense:
1) Anti-UVA and UVB shield
2) Anti-free radical and anti-stress shield
3) Reinforced Cellular Cohesiveness
All Day All Year will block 90% of UVA and UVB rays for 8 full hours, help to protect cells against environmental stress, and strengthen the skin's barrier function. Simply put: your skin will be more moisturized, radiant, youthful, and healthy!
Sisley recommends using All Day All Year in the morning after washing your face for the best results – year round!