ESTEE LAUDER – YOUTH DEW
Chances have it that at one time or another, you've seen a bottle of Estee Lauder's Youth Dew sitting atop mom's vanity or knocking around in her bathroom cupboard... proof that this feminine – first launched in 1953 – has been much loved over the decades.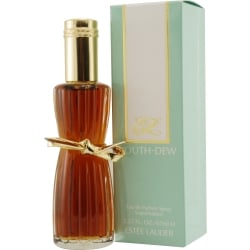 Youth Dew is a spicy oriental fragrance, whose style is very much in keeping with the optimistic post-war outlook of the 1950's. An incredibly complex perfume, Youth Dew has an olfactory pyramid a mile long, but it is one that makes for a beautifully blended and arresting elixir. The opening is of aldehyde, zesty bergamot and peaches... these sparkle over a more considered core of florals and spices: narcissus, jasmine, orchid, ylang-ylang, rose, cloves and cinnamon. The trail is a musky, ambery style, with whiffs of patchouli, balsams, oakmoss and incense. When first applied to skin it feels uplifting and brisk... but as it dries, a profoundly captivating evolution unfolds, taking it far from it's sweet and chaste preamble towards a darker, more sensual direction. It lasts an impressive 6-8 hours.
Loved by mature women the world over, Youth Dew is making a comeback in the two-thousand-and-teens with the young modern woman who has an appreciation of the classics! Well worth revisiting.