Essentials for Your Memorial Day Weekend Trip
I don't know about you, but I am heading off and away for Memorial Day weekend and can NOT wait! Doesn't it always seem like packing for a 3 day weekend is no different than packing for a week long vacation? Or is it just me? Anyways, I'm sure you too have the same issue I do, but this time, I've come to my "senses" and will only be packing my essentials (and a few extra of this and that..shhh). But really, these are THE beauty essentials you should pack if you want to have an amazing weekend without a fussy packing experience.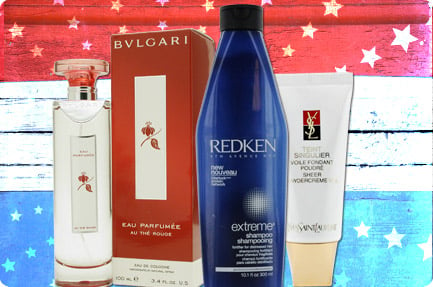 Coincidentally, my 3 essential beauty picks are red, white, and blue, who knew…and are truly essentials to take with you on a 3 day weekend getaway.
For the first summer weekend, you must pack yourself a new and true fragrance; my pick? Bvlgari Red Tea perfume, it's so amazing, with notes of red tea, Seville orange, bergamot, pink pepper, walnut, musk and balsamic notes, I think I will make this my new summer scent!
Essential #2, REDKEN's Extreme Shampoo Fortifier for distressed hair, because if you're anything like I, your hair will have it. From the wind on the beach or lake side with the sun and heat, your hair easily weakens without you knowing it…until now. Fortify and strengthen your hair while doing something you do on a daily basis, by doing something so easy as washing your hair! I love products that multi-task, don't you?
Essential #3, last but not least, is this Yves Saint Laurent tinted moisturizer. It's the perfect way to wear a light coverage on the face and still get some color with the sun! Plus, this moisturizer is anything but oily and sheen, the matte finished look is the perfect way to start a new summer beauty regimen.
Pack lightly and have loads of fun! Happy Memorial Day Weekend friends & fans !